Welcome to the Revolution!
My best-selling book on QAnon, Revolution Q: The Story of QAnon and the 2nd American Revolution, is finally available for purchase!
After an earth-shattering fundraiser on IndieGogo, Revolution Q has been met with hundreds of rave reviews. When I first set out to write the book, I wanted to bring something to the community that would both commemorate everyone's efforts, while crafting the most compelling, most thorough Q-related resource on the planet. By the time I was done, I had compiled a massive tome, clocking in at nearly 500 pages long, beautifully packaged with over 400 high quality graphics, and all printed on gorgeous 70 lb paper stock to make sure this book holds up for a long time, as you pass it to your friends and family members. But don't let the length intimidate you. Truly, people have been able to tear through this book at an astounding pace, with some finishing it in mere days and claiming it's one of the best books they've ever read, in any genre. As a writer, that's some of the most flattering praise you can ever hear, and I feel privileged so many have found this book to be so valuable.
Truly, I feel this is the best single QAnon-related book available on the market today. True, there are others that have their own merits, but this book was strategically designed from the ground up to both enlighten and empower old Q-patriots while also being approachable to those just hearing about Q for the first time. I designed it as a resource to help get conversations going, to educate, inspire, and to help everyone prepare for the coming storm!
While the book is primarily available on Amazon, Revolution Q is available across a multitude of platforms and digital stores. So if you don't want to shop at Amazon, give a search for it on a platform of your choice. Most likely, you'll be able to find a copy quite easily.
Click the image below to pick up your own copy today!

https://www.amazon.com/Revolution-Q-Neon-Revolt/dp/1949709590/
Revolution Q: The Story of QAnon and the 2nd American Revolution is the culmination of over a year's worth of writing and research. I've taken nearly 500 jam-packed pages to delve into the world of Q, and present the most explosive information in the most approachable, and understandable way possible. Here's a preview excerpt from an early chapter, where I explain where the term "conspiracy theory" came from, why it's used, and how it affects our perceptions of things: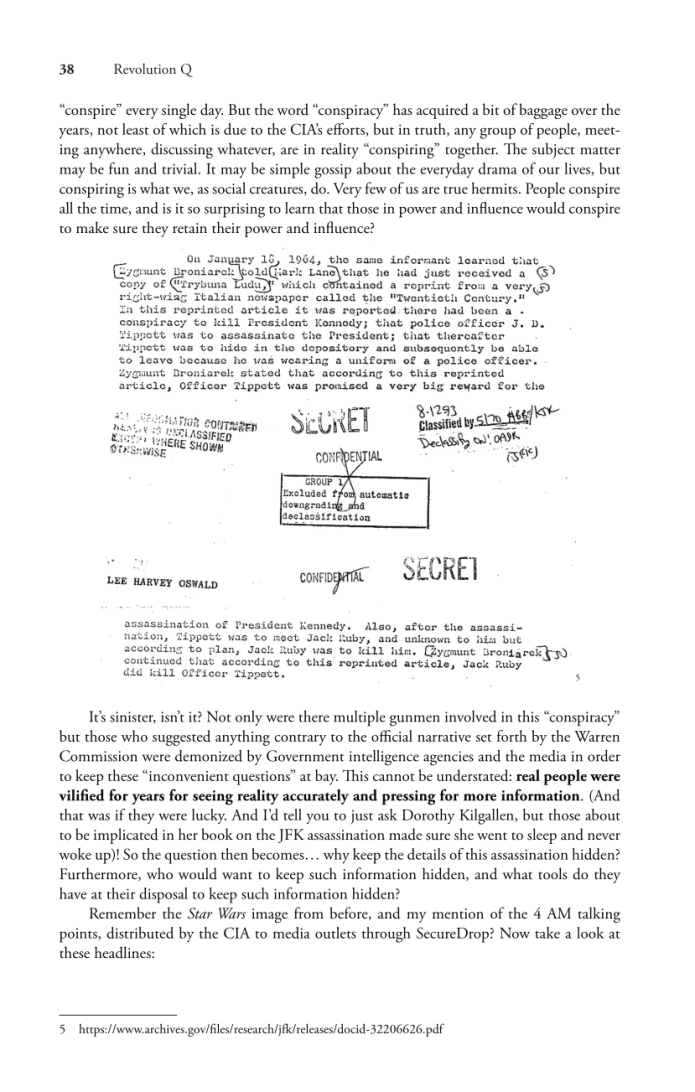 Across nine chapters, we explore all manner of topics, starting with the origins of QAnon and the history of the wild, raucous boards populated by the Anons – all to give the reader a fuller understand of why Q finally appeared when he did. We then begin to explore the plans that the Cabal had laid, as well as Q's plans to counteract them and save humanity. After that, we trace prominent families and bloodlines through world wars and revolutions, all gain a better understanding of this ancient death cult whose origins lie in antiquity. We dissect the mechanisms and tactics they employ to maintain their hegemony over the population and then, knowing what we now know, we place modern events in this historical context, to gain a deeper understanding of why certain events occurred when they did. And finally, we look to the future, to the disclosures, the revelations, and the "golden age" presaged by Q.
(Oh, and you might just learn a little bit more about me as well, in the process).
Whether you're an old-time Q follower or brand new to the movement, pick up your copy of Revolution Q: The Story of QAnon and the 2nd American Revolution today!