Well, the big day is finally here!
#RevolutionQ has finally released on Amazon!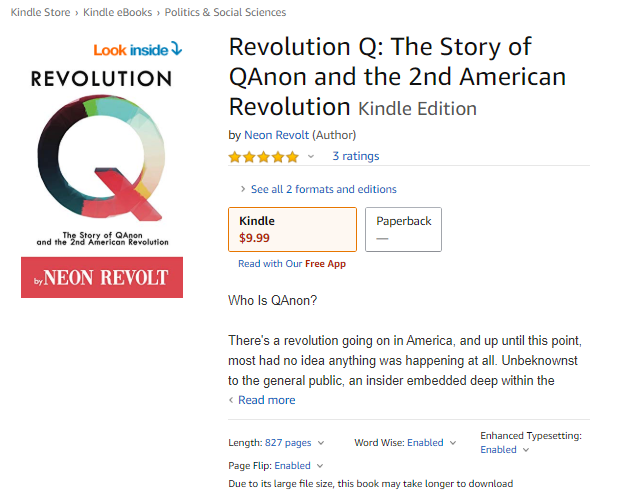 Revolution Q is now available to the world! Click here to buy now!
Right now, the Paperback edition is sold out due to extreme demand (my team hopes to have more in stock by this Friday, so keep checking back if you're looking for a hard copy), but the Kindle Version is up and available world-wide.
If you're someone who has already purchased and read the book: please, leave me a review on the Amazon page! So many of you left wonderful pictures and kind words for me on Gab. You could literally post the exact same blurb (and pics!) over on Amazon, and I would be thrilled to see that. Reviews really do help the book immensely.
While I love the look and feel of the print edition, note the difference in page count between the Kindle and Print versions.
The Print edition is 484 pages.
The Kindle edition is 827 pages!
We finagled every single margin and boundary we could in the print edition's typeset to cram every last bit of content into just shy of 500 pages, but if we had spaced things out normally, this could have very easily been an 800 page book – as the Kindle version shows! Point is, Revolution Q is JAM PACKED with mind-blowing content. And now, with the Kindle edition, you won't have to strain your eyes to read it!
Right now, it's #8 in its category, right next to some very heavy hitters!
And I couldn't be prouder!
But I think this book can go a lot higher, so tell your friends and family all about it. $9.99 is a steal for over 800 pages of fresh redpilling content.
And if you really have your heart set on a physical print edition (and I can't blame you; it's beautiful) – keep checking back. I'll try to announce both here and on Gab when print editions are available again – and like I said above, we expect them to be back in stock later this week – but I'm not going to lie! Demand is at the point where I'm already looking at a second print run, and when they're back in stock, they're gonna go FAST.
Once again, if you're someone who has purchased and read the book, I'd be incredibly grateful if you were to leave a review. Reviews are so important on Amazon, and I know that when I ask for it, you guys show up in FORCE, cause the QArmy is just amazing like that.
Thanks so much to everyone who not only helped me bring this book to reality via the Indiegogo, but everyone who has purchased, read, and shared this book with loved ones and friends. We're making history, and this is only the beginning!
Once again, here's a link to Purchase Revolution Q on Amazon, if you haven't already!
monster in japan