I still feel bad for him. Fredrick Brennan has not had an easy life by any stretch of the imagination.
But he's still a man and he's still responsible for his choices and decisions. And I need to treat him as such. To hold back on him would be to acknowledge him as an inferior.
Thus, I have to write what I'm about to write.
I didn't want to write this. I didn't want to publish this. And honestly, I really hope he gets his mind and his heart straightened out – but the underlying issues need to be presented to the public so that a fuller discourse – in which there are always two sides to any issue – can be presented. Especially to any companies or representatives who have been contacted by Fredrick, and why he may be obsessively seeking to deplatform an entirely legitimate, free-speech-based business.
…
There's a term in the open source community that is most associated with the late 90s/early 2000's, when Microsoft, in response to Desktop Linux (and Open Source software in general) becoming a threat to their cash-cow, Windows, went on an anti-Linux marketing bend.
Their goal?
Sow FUD.
Fear
Uncertainty, and
Doubt
FUD.
So, the brilliant marketing minds at Microsoft started spreading around the idea that Linux (and other Open Source software) was really unstable, insecure, was incompatible with what people were trying to do, and generally just be difficult and break people's hardware.
This, despite Linux and Open Source software running 95% of the Internet every single day.
And Microsoft knew that. They knew how stable and supported it all was. They just had perverse incentives for making OTHERS believe the FUD.
Today, most of us use some kind of Open Source software on a daily basis, whether we know it or not.
This kind of tactic should sound familiar to most reading this article because if you've been following the saga of 8chan's rebirth into the more mature and savvy 8kun, you'll undoubtedly know that the former founder of 8chan, one Fredrick "Hotwheels" Brennan (who shall now heretofore only be known by his new name #JudasAssChariot – which may seem harsh at first glance, but truly, he has betrayed this community that once embraced him and all the former "principles he used to espouse… for reasons we'll talk about in a moment), has gone on something of a one-man-jihad against 8chan, starting with his interview with Elle Reeve – the Vice Reporter who previously trespassed at the Watkins' home, and then illegally broke and entered onto the property with her camera crew in preparation for the media hitpiece you're about to see below.
Unable to legally get the Watkins on camera, and facing legal consequences for her actions, Reeve settled for turning her long-planned 8chan hitpiece into an extended interview with the site's founder, Brennan, instead:
In the video, Brennan presents his tale of woe, where he sees himself as the true victim in all of this, all while trying to undertake the "Sisyphean" task of spreading his newfound anti-8chan hate.
As evidenced by the timestamps on the threads Reeve and Brennan viewed together, this piece was recorded in May of 2019, and only published after 8chan had been systematically deplatformed by every service provider they had (much in the same way Gab was systematically deplatformed back in 2018).
In other words, the piece you see above was planned and timed months in advance.
And if you've been waiting for 8chan to come back – reincarnated with brand new moderation tools, and moderators taking oaths before re-joining the team – only to see the whole thing delayed time after time, you pretty much only have Judas AssChariot himself to blame:
I've now helped get 8chan (8kun) deplatformed four times in three days.
It's true. He has. And in essence, AssChariot's tactics are very simple.
So how has he done this?
AssChariot runs traceroutes against 8kun, which shows him info about which company's services are being used by 8chan, and then he messages the companies – either through e-mail, or by contacting a rep on Twitter, and then he sends them a scary message laden with all kinds of FUD about how "horrible" 8chan – the site he helped create – really is.
He spooks them with stories of "mass shooters" and "internet nazis."
And the panicked reps freak out, speak to their superiors at their respective orgs, and after a few switches are flipped, 8kun finds itself deplatformed yet again.
In other words… it's targeted FUD. And very few companies are willing to endure this.
So why is Judas AssChariot doing this?
Well we know at least part of his motive, because he's told us himself:
So despite his claims of being a "Christian" and that cross emoji on next to his name, Judas AssChariot is actually telling us that he is full of hate, according to his own testimony.
And this is a long-term pattern of behavior for Brennan. It seems he feels wronged by life, and, according to the interview he gave Reeve above, this can be seen particularly in the area of sexuality.
You'll recall from the interview that AssChariot ran one of the biggest (if not the biggest) "Incel" forum on the internet for a while, named "Wizardchan." Now, if you haven't heard of the "Incel" phenomenon before, the video from Vice provides a half-decent explanation. It's basically men who, in some way, feel fundamentally unattractive, that this can never be changed about themselves (in essence, their ugliness, be it internal/external/or a combo of both, is their immutable identity) and while they are attracted to women, they tell themselves that they're incapable of ever receiving love or affection from them due to who they fundamentally are.
As a result, many come to resent, despise, and even hate women.
This hatred, this fundamental feeling of being robbed by life, or God, or circumstance, evolution or whatever, in some way sometimes causes these self-professed "incels" to act out violently.
The most famous example of this is that of Elliot Rodgers, who ended up killing six and injuring fourteen after posting multiple rants about not recieving any kind of affection from women, ever.
Oh, and he used to post Wizardchan – the very site Judas AssChariot himself once ran:
I think it's safe to speculate, given what AssChariot has said in the past, that he actually hated women for a long time. This is no big jump in logic, nor any big secret.
After all, he himself often talked about how he could never obtain their affection, due to his disability.
That was until, again by his own admission, he got involved with a woman online who had a fetish for disabled men. Brennan took drugs and had sexual relations with this woman, which caused a falling-out between himself and the Wizardchan community, since the community no longer saw him as a fellow incel. In essence, he was no longer "one of them," so he was pushed out of the community.
Around the same time as the fall-out, Asschariot founded 8chan, moved to the Philippines and then…
Got into Asian hookers:
Lots of Asian hookers:
Perhaps he didn't hate women so much, any more. But not hating someone is a far cry from "loving" them. After all, there's nothing loving about treating sex as equivalent to an economic transaction.
However, these sexploits, as well as Brennan's laissez-faire attitude, helped gain Brennan his original monicker of "Hotwheels" from the broader 8chan community, as in the meantime 4chan was experiencing quite a falling-out with their original, much-beloved admin, Christopher Poole, aka "Moot."
Basically – you have to understand a bit of #GamerGate history here to understand this next part.
4chan had been a big hub for Gamergate, but then the founder of 4chan, Moot, got romantically involved with some SJW Journo-type (who soon cucked him, actually), started hanging out with Anita Sarkeesian, and basically, Moot started nuking Gamergate-related threads left and right, banned all mention of 8chan, closed down the feedback page, and banned all of Germany for… reasons(?)
Long story short:
Mods revolted.
Chats were leaked.
And users fled to 8chan, where there were manifold promises to protect freedom of speech, and free expression.
All in all, it was a nightmare for Moot and 4chan. And soon thereafter, Moot sold 4chan to Hiroyuki Nishimura (founder of 2chan who quickly dubbed as "Gookmoot" by the remaining 4chan community) and left to work at, of all places, Google.
Around this time, AssChariot made a post to 8chan. Please read:
Note how in this post, Brennan recognizes /pol/ as one of the most important boards on 8chan. Here he gives it the largest catalog on the site, thus cementing its prominence on the site – and he ends off by invoking a meme that has its origins on /pol/ when he says "the Jews fear the Samurai."
Certainly edgy memes from the time, so I can't condemn him for that. And /pol/ was a very active board, as it was on 4chan. Remember, this was Trump Election season, so Brennan was simply acknowledging the reality of the situation, and I don't think it's fair to read this as an actual endorsement of those ideas.
Then, a couple days later, Brennan accepts an invite to write an article on the Neo-Nazi site, the Daily Stormer:
Full res: https://www.neonrevolt.com/wp-content/uploads/2019/10/serveimage.png
While that site is not accessible on the clearnet any more, an archive of it is viewable:
Fredrick Brennan Daily Stormer December 30, 2014 I am a disabled supporter of eugenics, and I'm not the only one. Allowing more cripples like myself to be born when society at large knows how it can be stopped is a great crime. Osteogenesis imperfecta is a genetic disease that normally appears as a de novo mutation.
I encourage all my readers to read his heart-breaking article. It stands as a testament to how much Brennan hates himself, and his condition, for in it he argues that it's better to pursue "genetic purity" instead of allowing individual like himself to exist.
And like the video above, the article goes into Brennan's relationship with his father, which I'll quote below:
Yet, multigenerational families exist. How can this be? I can only tell my personal history.

My mother has the same condition I do and gave birth to me via Caesarian section at the age of 38. She gave birth to my brother, who has the same condition, at the age of 40.

And the father? One Mr. David Brennan of Craryville, New York. A complete dead beat. A man so desperate for pussy he is currently fucking my former aide provided by the state, one Bibi Ougrah, despite the fact that she is post-menopausal, her hair is falling out and she is probably close to 300 pounds.

I don't blame my parents for what happened, I instead blame the society that taught them that their actions were ethical.

My parents divorced when I was five, and in a case unusual for the court system in the feminist state of New York, due to my mother's disability my father got sole custody. Thanks to state-sponsored welfare, he hardly had to do anything and got $1200 per month for the privilege of having crippled kids, plus a state sponsored nanny that he would later start sleeping with. He also cheated the IRS on top of this and did off the books mechanic work.

Upon seeing that his crippled children would never take out the garbage or even play a game of catch without breaking a bone, he promptly checked his children into the state foster care system when I was 14.
Combine this with his testimony in the original video, where Brennan depicts his father as this brutal, horrible man – with his father often accusing him of breaking his bones on purpose, in order to avoid responsibility, and I think we can start to build something of a psychological profile on Brennan.
Let's review his previous statement about his motives for attacking 8kun and, specifically, Jim Watkins:
Brennan simultaneously claims to hate 8chan, while in the same breath saying he regrets selling his site. He also says he hates Jim Watkins.
Let's examine how these are possibly intertwined.
The first and most obvious question to all this is – if Brennan really regrets selling the site, why didn't he just make a new chan and run it all as he saw fit? After all, he created 8chan in the first place. It shouldn't be too difficult for someone like him to build a new one. Much, if not all of the tech that chan boards run on is open source – including what was 8chan's source code. And new chans pop up all the time in the broader chan-verse, doing precisely this – which run the gamut of niche all the way to cancerous. But I repeat myself: is pretty normal for new chans to appear all the time.
Brennan could have very easily spun up a new site for relatively low cost, made it cash-flow positive leveraging some of his previous advertising connections from 8chan, and essentially started over from scratch, building on the lessons learned from his previous efforts. And he probably could have drawn quite a crowd, too – given his previous reputation and standing among Anons. All it would have taken was some time – and Brennan has had years to accomplish this.
So why has he chosen not to, despite regretting the sale of 8chan?
History would actually suggest that Brennan is incapable of successfully running a chan, as while he was in sole charge of 8chan, issues plagued the site, non-stop, with moderators complaining to him via IRC that they were simply unable to remove illegal content due to Brennan's poor coding skills:
(note: Judas AssChariot goes by the alt of "copypaste" on IRC messaging systems):
Full Res: https://www.neonrevolt.com/wp-content/uploads/2019/10/1571332457208_compressed.jpg
As you can see, in this chat, a mod complains about not being able to remove child pornography posts from 8chan's /b/ – or random – board.
Brennan's immediate response is to call him an "asshole" before proposing measures which actually broke the functionality of the site for legitimate users to actually combat the issue.
The mod who got promoted to head of /b/ – Zuljin – at one point disables image-posting on /b/ to combat the CP issue.
Brennan's most trusted mod, an individual who went by the name of lowcard, then advised the same mod to enable image posting again, saying that "constant pedothreads on /b/ are like a canary for freedom on 8ch."
All in all, the site was a mess under the headship of Brennan. He needed infrastructure help, at the very least, and that's when his relationship with the Watkins began. Watkins owned hardware. Brennan owned the domain at the time – 8ch.co – and Ron Watkins (aka Codemonkey aka Jim's son) was stepping in to help iron out issues with the coding on the back end of things.
At least he did… until the government of Columbia seized the domain following a massive DDOS attack (which some say was caused by Jim Watkins himself – though, to my knowledge, I don't know of any evidence to back up this assertion. Not saying there isn't any – just that I haven't seen it).
At this point, Brennan fully sold the site to Jim Watkins – who was, at the time, the owner of 2chan (which was created by Hiroyuki Nishimura – who, yes, would buy out 4chan. If this all feels a bit musical-chairsy – its cause it is).
Watkins then pointed his servers (which housed all the site source code/data) to a new domain – 8chan.net.
And this is really the point at which Brennan's hate for Watkins was born, despite the fact that he had no one but himself to blame for the situation in which he found himself. The seizure of 8ch.co was the direct result of his failures – and frankly, his inadequacies – as an admin and a coder to build and maintain the kind of site he was building.
But instead of processing and accepting the blame for this situation – Brennan seems to blame Watkins for his failures – which seems to have metastasized into a vile hatred, over the years.
This would also explain why he never built a new site, despite regretting the sale of 8chan in late 2014. Deep down, I suspect Brennan is afraid of failing again, because he fears he will once again be made to feel inadequate – much in the same way Brennan's father originally made him feel inadequate and unloved.
Despite the sale of the site, Brennan stayed on as 8chan's global admin:
And this is where the jealousy and resentment for the Watkins starts to spill out into the public:
Following an issue with Captcha's, Brennan began posting incomplete/edited chat logs in order to make the Watkins look bad:
Full res: https://www.neonrevolt.com/wp-content/uploads/2019/10/341d96fa4257052603f6648ae9c80424-imagejpeg.jpg
Simply put, Ron responded by posting the full conversation, with the bits that made Brennan look bad placed back in.
So the obvious question now presents itself: Does Brennan consider Jim Watkins a type father figure – by which I mean an older male with some combination of success/ability/better circumstances/ who, by virtue of simply functioning in society at a higher level than Brennan (which isn't hard, given Brennan's disability), makes Brennan relive feelings of inadequacy?
Is Brennan's lashing out against Watkins and 8kun consistent with someone who wishes to exact vengeance upon those who he perceives as reminding him of his inadequacies?
IRC chat logs shed some light on the issue:
<copypaste> i want 8chan gone first
<owo> make everyone hate them as much as they hate themselves
<copypaste> that's the most important thing
<owo> etc
<copypaste> 8chan, 8kun, no jim watkins-run 8chan related website
<copypaste> i can't have peace until that's accomplished
<PatMan> Why?
<owo> or else baby gonna cry
<Monroe> 10/10 autism
<copypaste> after that's done i can worry about everything else
<owo> oh he literally typed it before me
<owo> epic
<copypaste> because jim wronged me
<owo> so did you abandon all pretense of Christianity
<PatMan> What do you think jim did you wrong?
<PatMan> I've never gotten that, and that's a sincere question
<PatMan> Not rhetorical one bit.
<owo> are you gonna remove the cross emoji from your Twitter name
<copypaste> he barged into my room, let's start with that.
<Monroe> jim tied him up and made him cum
<copypaste> he used 8chan to "embrace infamy" of shooters
<porkpocket__> https://is2.4chan.org/ck/1571013635969.png TileTruem
<copypaste> he ran 8chan in bad faith
<PatMan> <copypaste> he barged into my room, let's start with that.
<PatMan> Elaborate on that one
<copypaste> he thought he was my father or something? his personal slight to me cannot be overstated
<owo> Monroe: inb4 drawn porn of it
<Monroe> lol he even said it himself
<copypaste> i was his employee not his child
<Monroe> jim barged into his room
<copypaste> yes
<owo> can you confirm you are three years old mentally
<JohnDerp> he's stupid copypaste, you are better than him
<copypaste> jim sucks and his way of running imageboards is terrible
<copypaste> i hate him
<copypaste> i really don't need more reasons to do what i'm doing
<owo> hate isn't great
<copypaste> i won a huge victory today
<PatMan> So you don't like the way he treated you when you were his employee, fundamentally?
<owo> so you did abandon all pretense of Christianity
<PatMan> And also the way he ran 8chan
<owo> are you gonna remove the cross emoji from your Twitter name
<porkpocket__> i will be your new father copypaste and will raise you to be the fine young woman you were destined to be
<owo> it'll gain you woke points if you take it down
<owo> l0l
<copypaste> yeah PatMan sure. i think that's about right.
(Emphasis mine). Source: https://pastebin.com/gMQ0SPau
But note the language used by Brennan: "he barged into my room."
No context is given for this incident. But the language is similar to an incident Brennan recalls in his interview a time when he was falling from his bed as a child, and his father "barged in" to save him from hitting the floor and breaking bones, before issuing a very harsh (and undeserved) verbal rebuke (in other words, where Brennan's father made him feel inadequate).
And note how Brennan says in the IRC chat log:
"I was his employee not his child."
We already know Brennan has a history of underperforming on a technical level when it came to 8chan. The choice of language demonstrates, I believe, that Brennan was trapped in a kind of strange, father/child paradigm when it came to Jim Watkins, precisely because Jim's (and Ron's) proficiency made Brennan relive fundamental feelings on inadequacy tragically imparted to him by his own father.
In short, I believe that Brennan has never quite learned to be okay with failure as a result of being stigmatized by his own father, and for this, he has my sympathy. It is my believe that failure and shortcomings should be looked at as opportunities to learn and grow, but that's easy for me to say, right? After all, I've never had to experience the kind of hardships Brennan has had to endure, in his life.
But does that excuse him and his recent choices?
Obviously not.
And anyone who visits his Twitter profile can see the cackling glee with which he hurls abuse on the Watkins, and the broader QAnon community.
But what would motivate Brennan in such a manner?
In a strange turn of events, the hacker known as "Weev" jumped on to IRC to defend Brennan. Here are excerpts from that conversation:
Did you catch it?
Hmm… What might those social standards be?
Recall, for a moment, the previous problem the /b/ admin had with individuals posting child pornography.
Did you also know there was once a whole board on 8chan dedicated to posting pedophilic content, while the site was under Brennan's full control?
The board was called /hebe/ – short for hebephile – which defines itself as the attraction to pubescent children.
In other words – these are people who split hairs on the dictionary definition of pedophilia. And /hebe/ was a board where members would post things like images of underage girls in swimsuits or the like.
The FAQ for the board at the time alleges that despite Brennan's outward disposition to the board (which was equal to tolerance, since it was allowed to exist the entire time Brennan owned and operated the site, the Anon also alleges that Brennan himself once played a "German lolicon eroge."
The FAQ then goes on to explain how to groom a "loli girlfriend."

Full res: https://www.neonrevolt.com/wp-content/uploads/2019/11/serveimage2.png
For those who don't understand what this means – "eroge" is a portmanteau of "erotic game." Therefore, a lolicon eroge is a game in which you play a character that seduces a child, or children.
And this is what the Anon alleges Brennan played, citing a specific title in the FAQ of the board dedicated to ogling images of underage girls – a board Brennan allowed to operate during his tenure – a board which also gave advice on grooming pubescent girls.
Do you see a pattern yet?
Between the incel forum Brennan ran (which was later frequented by Elliot Rodger), his alleged hiring of prostitutes, and him allegedly playing a lolicon eroge – along with tolerating the mere existence of a board dedicated to sexualizing and grooming underage girls – one has to ask the question:
Is Brennan really being honest and forthcoming with his intentions, when it comes to attempting to deplatforming 8kun?
But our story doesn't end there, for you'll recall that Jim Watkins bought the site off Brennan.
And when Jim learned of the existence of the board, he had some questions. Here is an excerpt from an IRC chat between Jim (n-tech) and Brennan (copypaste):
Jim, once understanding what that board was being used for, decided it was wiser to ban the board altogether.
And when he did, some Anons were upset with him.
Others cheered the decision:
Jim deleted the board of his own accord, due to his own conscience, while Brennan allowed it to fester and grow under his watch.
And even now, much like tolerating the mere existence of /hebe/, Brennan's actions against 8kun are of "questionable" legality:
Apart from the Brennan potentially roping any company and representative she contacts into "Tortious Interference" territory, Brennan is also threatening to release HACKING TOOLS to keep the site offline.
Service providers should really think long and hard about the information presented here, tonight, because as I said in the intro, there are always two sides to the story.
And right before I go to publish this, it seems that 8kun is mere hours from coming back online, thanks in part to the courageous decision by Digital Ocean to stand for free speech, freedom of expression, and free enterprise.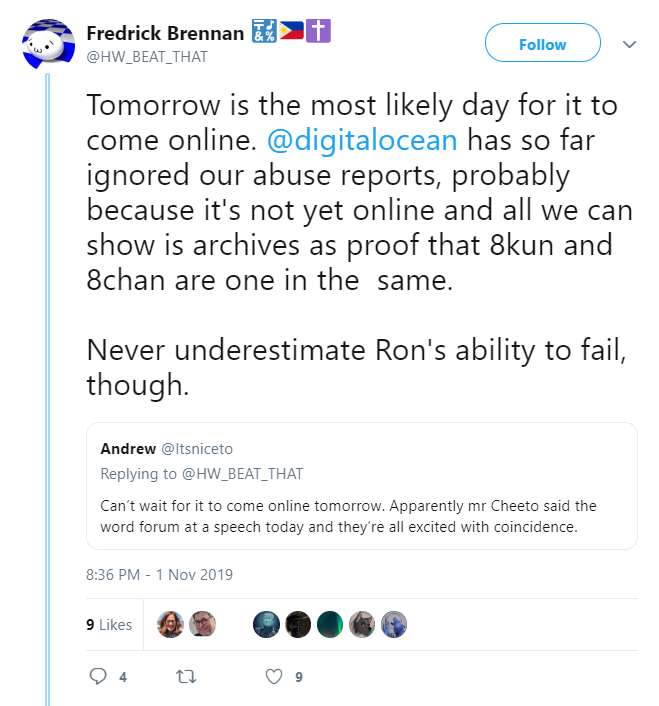 Under the wise and proven headship of Jim Watkins – who has invested a massive amount of time and energy into creating new moderator tools, and having board owners sign legally-binding oaths to moderate to the best of their ability – I see nothing but a bright future for 8kun. As I write this, a countdown clock has appeared on isitwetyet.com, a site owned by Jim Watkins, along with promises of decentralization tools to help keep 8kun online:
In essence, this means that one way or another, 8kun is coming back online, and there's nothing anyone can do to stop it. Decentralization work, and tools already exist to help 8kun decentralize quite easily. So whether or not Brennan is successful in his most recent salvo of FUD does not matter.
Ultimately, Brennan loses this fight.
And there's nothing he can do to change that.
As for Brennan… he is someone who, I think, hasn't been given very many choices in life, due to his condition and the poor quality of the individuals surrounding him, and as a result, has simultaneously languished and lashed out at periods of his life.
This is an absolute tragedy, but ultimately, much of this boils down to mindset, at the end of the day. After all, even if you're completely powerless in any given situation, you always choose how you react to things. Is Brennan the first person to feel powerless? To feel hopeless? To feel marginalized?
No, of course not. Brennan is actively making a choice. He continues to make choices every single day.
Just like Judas made a choice.
Brennan could have been a hero, had he chosen differently. If he could have thought of someone besides himself for a moment, he literally could have been a hero to so many.
Instead, he has chosen time and again to be a villain.
He has chosen the path of Judas.
I don't know about you, but I'm siding with the heroes.
And I seriously hope Brennan finds real peace before his choices lead him down an even worse road.