The Chans have a long history of insiders dropping intel to the Anons. From MegaAnon, to FBIAnon, to QAnon himself, the army of decentralized weaponized autists are always ready to dig and meme… if the insider is able to prove he's more than just another LARP vying for people's attention.
Cut to the evening of the 29th, when a new insider appeared, and subsequently made some staggering claims:
So Anon is claiming there is a shell corp that is affiliated to a politician running for President, which is also connected to pro-Sports, Hollywood, and which he and his team have been able to trace over 10 billion dollars of undelivered Navy equipment to, all located in West Georgia.
Staggering claims, to be sure – but exactly the kind of thing that engages Anons' autism.
I'll be calling this particular Anon #DoDAnon for the duration of this article (though yes, he's only an auditor, and not an official employee of the DoD).
I originally posted the thread over on Gab, so some of my readers will have undoubtedly already pored through this thread, but I wanted to take some time to write up a more thorough investigation into the claims being made by DoDAnon here.
I'll add here to expect unfiltered language from Anons in this thread. I've had to put this disclaimer in before: just because I'm posting screencaps of what Anons said, it doesn't mean I personally agree with them. I'm adding their uncensored posts for context, and for thorough reporting purposes. This should not be seen as an endorsement.
And of course, as always, Anons take everything with a grain of salt. These may be interesting claims from DoDAnon, but bona fides of some sort are always required:
For whatever reason, Anon doesn't trust the Inspector General, and prefers to leak to Anons.
We can speculate as to the motive here, and that's always important; to see how the intel being dropped fits into the broader gestalt, but for now, let's continue and see what DodAnon has to say:
DoDAnon then comes back and actually delivers proofs:
Not bad proofs, if you ask me. After all, there is only so much DoDAnon can say without giving away his ID, and thus, jeopardizing his safety.
Anon then asks DoDAnon a question:
Bread and circuses they may be, sure… but I think DoDAnon is a bit blackpilled on this point, frankly.
Anon asked DoDAnon to prove he was actually taking the pics he posted, and not just grabbing them off a search engine.
The way to prove it is to write something related to the thread on a piece of paper, and take another photo with the previous items – in this case, the coaster he had photographed the DOD lanyard against.
This does at least prove that the photos are current.
The thread gets a bit complicated here, because Anon actually hopped IPs, and got a new ID: KKpU69En. I've tried to include relevant Anon posts for context, where appropriate:
lol DoDAnon is a savage.
Same agency as Stephen Paddock??
I had to double-check this one.
Wikipedia validates this claim.
It might be worthwhile to leave this link here, in case anyone needs more background info on this agency:
The Defense Contract Audit Agency ( DCAA) is an agency of the United States Department of Defense under the direction of the Under Secretary of Defense (Comptroller). It was established in 1965 to perform all contract audits for the Department of Defense. Previously, the various branches of military service were responsible for their own contract audits.
Note the different regions involved. If what DoDAnon says is true, this has crossed state borders several times, and must be big.
Anon claims he'll be on TV on 10/1.
We shall see. That would be the ultimate proof.
85 was the year Paddock was employed.
DoDAnon asks a surprising question here… but perhaps even more surprising is the answer he would soon give:
Interesting connection, no?
Fits with a lot of what Q has told us, and what Anons have dug up over time. Consider, for instance, the strange case of the Knights of Malta, as documented by Anons on the QResearch board:
Rothschilds, Windsors, and the IMF, all in one photo. Lovely.
And art sales being cited as a "legal" form of money laundering, once again:
Some may recall this post (and the linked post on Voat) from 2018, which thoroughly dissected this topic:
The meme here, for those who might not be familiar with the lingo, DoDAnon is referencing is that India has a problem with open defecation. That's why he's calling them "Poos."
He's saying India will be conscripted in any kind of fight if it ends up boiling over into England vs. America.
It's a theory, to be sure, but we'll see how that works in practice.
This is true, actually, and has even been acknowledged by the MSM for some time now:
This is a digitized version of an article from The Times's print archive, before the start of online publication in 1996. To preserve these articles as they originally appeared, The Times does not alter, edit or update them. Occasionally the digitization process introduces transcription errors or other problems. Please send reports of such problems to [email protected].
Burke's Peerage today released a report tracing the Vice President's family tree to the 1400's. The study by Burke's senior genealogist, Roger Powell, and an American colleague, William Ward, found that Mr. Bush has more connections to British and European royalty than any President of the United States. Queen's 13th Cousin

For example, Mr. Bush is a 13th cousin of Queen Elizabeth II and is related to all members of the British royal family, according to Burke's genealogists. Moreover, he is related to all those who have married into the British royal family, like the Queen Mother, the Princess of Wales and the Duchess of York. Mr. Bush is also related to all current European monarchs on or off the throne, including the King of Albania.
And of course, we've all seen by now the other reports how over 40 Presidents are all related to each other – including Obama to the Bushes.
So yeah, essentially, what DoDAnon is implying here is Merovingian bloodline stuff.
Oh boy. The Merovingian rabbit hole.
I talk about this some in my book, Revolution Q, but for our purposes, there's a great writeup by David Icke which will give you all the essential pieces for understanding the basics about this bloodline:
by David Icke I have recently been sent a series of genealogical charts which detail a bloodline and its off shoots that will be highly relevant to the readers of The Biggest Secret. I had no idea of their existence when I wrote The Biggest Secret.
I will say here, I think the fundamental mistake Icke makes is in calling this a "reptilian" bloodline – and that's a fatal error for him. For some reason, Icke actually believed in literal reptilians, and that people like the Bushes and the Windsors are shapeshifters of some sort.
In reality, I believe it's much more simple than that: an ancient chaos serpent cult that stretches back in time simply known as the Brotherhood of the Snake. (Again, I go much more in-depth on this subject in my book).
No shapeshifting subterranean species of lizardmen required.
But with that said, much of his info in that piece is spot on and verifiable through other sources.  So read it… but read it while not making the same fatal leap into lizard territory that Icke makes.
LAWL.
DoDAnon got proper spooped by his investigation.
Anon hops routers and changes back to his old ID:
Interesting bit of codespeak from DoDAnon there:
"Things happen in twos a lot."
Keep that mind moving forward.
Anon was looking at the Defect Contract Audit Agency offices on Google Maps.
DoDAnon confirms what I suspected; that this is indeed crossing regional lines, and thus, a big case.
DoDAnon then switches IPs again, to call out a British Anon:
Anon immediately thought of the missing trillions Rumsfeld announced the day before 9/11:
It's interesting that DoDAnon seems to refer back to the "Tranny" issue repeatedly. I know it's not a PC thing to say, but transvestites are the ultimate form of tax cattle. They'll never have real families, since you absolutely need gender roles for a family to truly function in a healthy and complete manner. As a result, they're often rootless. They're also often chemically or surgically gelded, so they have no real future beyond whatever entertainment they can draw out of the present moment. They're atomized human beings; utterly weakened from the inside-out.
If the family and the church have traditionally stood in opposition to Government overreach and tyranny, the Transvestite welcomes it with open arms, since they essentially have no alternative.
"his being outed tomorrow?"
Interdasting…
Does DoDAnon know of more Biden news incoming?
More breadcrumbs. The above image is from the film 12 Years a Slave.
Anons started digging:
DoDAnon comes back with a Q-related image, basically confirming what Anon would write about River Road Entertainment:
That narrows it down quite a bit, as we'll soon see.
And this is the kind of connection that you need to know about in advance to be able to write drops around. That's the funny thing about intel. You need to know it inside-out, if you're going to try to communicate it to others. (And I speak from experience, what with my previously #BlackListAnon drops, which many of you will remember).
Klobuchar definitely seems to be the candidate in question.
The Pohlad Companies website offers a wealth of corroboration:
We are a diverse group of businesses united by a proud legacy, creating value and opportunities for our employees, customers and communities. Founded by Carl R. Pohlad in the 1950s, and now managed by his three sons (Jim, Bob and Bill), the organization has grown and diversified over the years.
Anon got the PaR Systems part right, here, which, I think, prompted DoDAnon to respond. More on that in a moment.
As for DoDAnon's picture, that comes straight from the Pohlad site, and is of Bert Colianni:
Bert Colianni oversees the numerous and diverse operating companies and investments of Marquette Companies, LLC. Bert has been with the Pohlad family since 1982 when he began work as a controller in their banking organization. He has served in numerous executive positions and industries for the Pohlads including as CEO for their previously owned and large banking organization, and 20 years of experience overseeing their commercial real estate services, finance, and investing businesses. Prior to joining the Pohlads, Bert was an audit manager for Coopers & Lybrand, now called PricewaterhouseCoopers LLP.

Bert maintains extensive commitments working to support the Twin Cities community. Bert serves on the executive committee of the board of Greater MSP, as board chair of the Hill Museum & Manuscript Library of St. John's University, and as a trustee of Our Lady of Lourdes Catholic Church in Minneapolis, MN. He also serves as board chair of Optum Bank, an industrial bank subsidiary of United Health Group. He has served as chair of the boards of the University Wisconsin-Eau Claire Foundation, Breck School Board of Trustees, the Downtown Council of Minneapolis, and CommonBond Communities. He is an active fundraiser for many civic organizations, foundations, colleges, and other charitable organizations and has served on many other such boards.

Bert graduated in 1976 from the University of Wisconsin-Eau Claire with a B.B.S. in Accounting, and he received the school's Alumni Distinguished Achievement Award in 1996. Bert received his C.P.A. certificate in 1978. In 2017 Bert and his wife, Suzie, were honored by the Association of Fundraising Professionals Minnesota Chapter with their Outstanding Volunteer Fundraiser Award. He and his wife live Minneapolis, Minnesota having raised four children and now enjoying their eight grandchildren.
Source: https://pohladcompanies.com/who-we-are/
Sounds like he's implying some very serious things here, about this man in particular… I don't think I need to say more to my readers, as they can figure it out from the context of the drop. Needless to say, it's not good.
Ominous…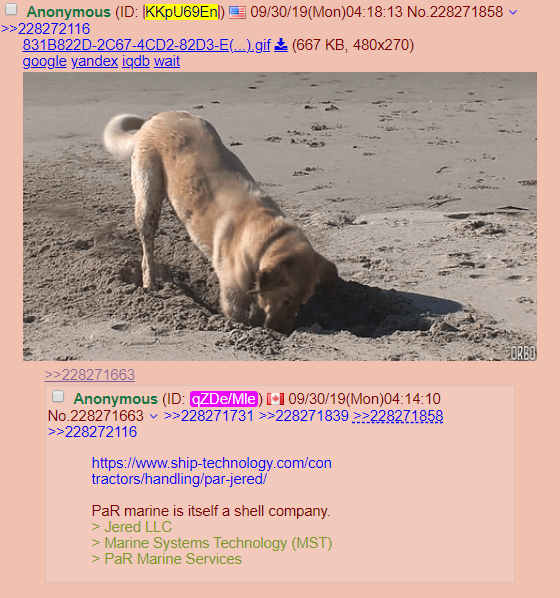 Anon picked up on the PaR thread again, and DoDAnon responds with a "dig dig dig" gif.
PaR Marine, a division of PaR Systems Inc, includes the companies Jered LLC, Marine Systems Technology (MST) and PaR Marine…Read More…
Anons did start to dig, and one immediately found the shared location of the shell companies almost immediately:
Anon provides a street view:
Anon notices that the location may even be strategically placed:
Far cry from Springmeier's "13 Bloodlines." But in all fairness, if you've ever actually listened to Springmeier speak, he basically says that there are A LOT more than 13, and that 13 was just kind of a memorable number which helped him get the message out.
Bingo. Direct tie between the Pohlads and Klobuchar.
Anons would soon add:
DoDAnon's story seems to be panning out indeed.
More from Anons and DoDAnon about the pacifying nature of modern entertainment; electronic bread and circuses.
Anon then compiles the research thus far into one summary post:
DoDAnon seems to be reiterating his impending TV appearance.
That's a picture of a mantis shrimp, for the record. More signalling from DoDAnon, it seems.
Anons would continue digging in a subsequent thread, and some of the posts are quite worthwhile. I've compiled some of what I think are the most insightful posts below, starting with Anons speculating about how closely Klobuchar is involved in all this:
Fast and Furious on steroids, lads. The conversation continues: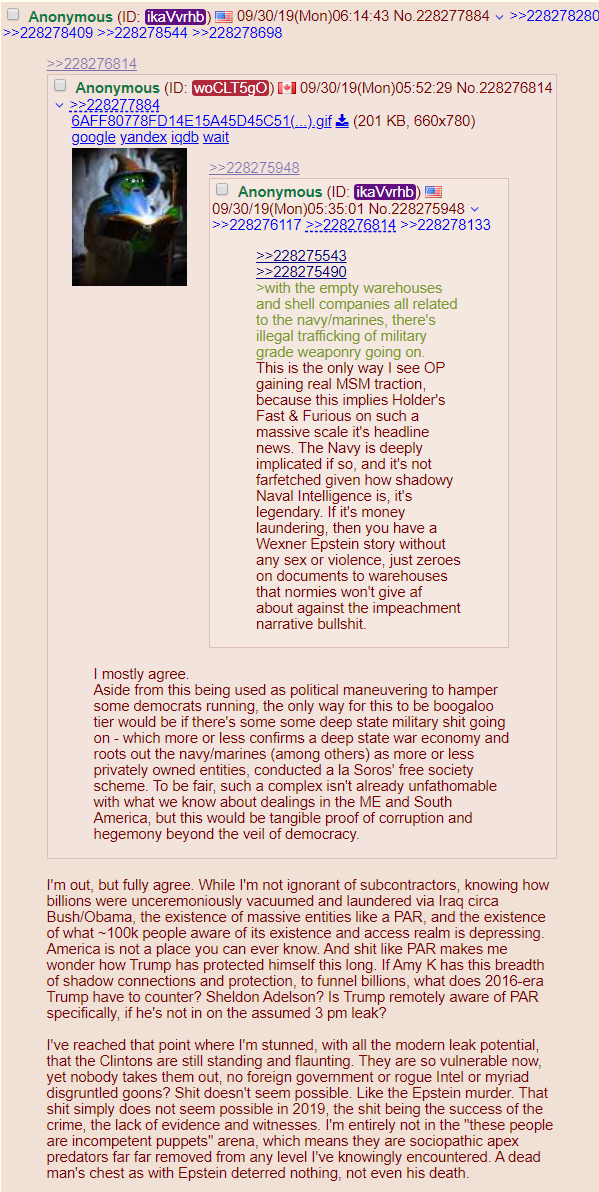 Anons above are bit too blackpilled for my tastes, frankly, but it's understandable why.
Anon notices that Jered LLC may be the perfect cover, given that they're a certified supplier:
And Anon sums it up once more for us:
So, what to make of this?
We'll see later today (perhaps). But much of what DoDAnon said was verifiable. And it's the minutiae of it all that convinces me there's at least some significant degree of truth to what he's saying.
As to whether this ever makes it to the news, we shall see. I certainly hope so, and will keep my eyes peeled for that kind of verification, as will Anons everywhere, but if this is true, this is a portends the unraveling of a mega-scandal the likes of which we've rarely seen in the past – if ever.
And if nothing else, /pol/ and Anons continue to live up to their reputation: