Guys, I wasn't expecting this at all.
So much has happened recently in the #QAnon-related space that… it's almost been hard to keep up, even with Q's absence.
And you'll recall that I said I thought Q was going to return on 11/9, but man-oh-man, I was wrong.
Sort of.
Q came back with two drops today, after 23 Days of silence. Why?
You'll recall his "leaked" password on May 19th which read "NowC@mesTHEP@in—-23," after which, he changed his tripcode.
So yeah, Q's last post was on October 9th. 23 days later, he posted two posts.
First thing Q asks us to do is review drops about polls, so, very quicky:
Polls are #FakeNews! Never forget that.
Literally just fabricated lies! Don't believe a word. When #POTUS says #FakeNews is the "enemy of the people" he's not exaggerating. They're a treasonous, subversive force working in tandem with rogue elements of various intelligence agencies, not to advance the American cause, but to advance the cause of those who are Anti-American; ie, Globalist enemies.
And then, an excerpt from Qdrop 2030:
Every battle is won before it's ever fought! Polls, in the hands of the Fake News media, are just a psychological weapon designed to demoralize good Americans and instill cynicism in the populace. Why? Because then many will think it's just useless to even show up on voting day, and that makes the Globalists' job that much easier! Less genuine voters means the fraudsters' jobs are that much easier.
It's really sinister.
Attached to Q's post were two links to #HatchAct related pages:

Full Size: https://www.neonrevolt.com/wp-content/uploads/2018/11/firefox_2018-11-01_22-27-00.png


Size: https://www.neonrevolt.com/wp-content/uploads/2018/11/firefox_2018-11-01_22-27-07.png
Now, you'll recall that we anons were speculating that Q was silent during this time so as to avoid any Hatch Act violations. I had posted on Gab a bit about it, but finally aggregated the sum of those thoughts in a quick article here:
So why is Q back now? (Beyond the 23 day #Qconfirmation, I mean).
What I'm thinking Q means by this is that certain messages are allowed. Telling people to stay together, vote, and to re-read stuff doesn't exactly violate the Hatch Act in any way that I can see. I'm willing to bet these drops were well vetted by a team of experts before they were sent.
#Anon made this side-by-side to help clarify even further.
Before we I have to say, #QOTUS' campaign schedule during this time has been unreal. It's like 2016 all over again. He's a force of nature. He's holding something like 11 rallies in 8 different states, before the 6th. It's unreal. I've never seen a President do anything like this before, and it's fantastic.
And his rally today in Missouri is no exception to this:
He attacked everything; the caravan trying to get into the country, birth-rite citizenship, chain-migration, human trafficking, job numbers, and much much more.
But yeah, even while Q has been away, the media has still be attacking:
Qanon, latest in political quackery, doesn't just create an alternate reality using existing conspiracy theories – it ties them all together
The QAnon legend assigns every terrible thing in history to a blue-state plot. Liberals killed JFK Jr. to make way for the Clintons, shot Reagan, murdered Seth Rich, organized lots of kid-buggering operations (Pizzagate was just the tip of the iceberg), pulled off the Las Vegas massacre and allied themselves with an array of villains, from Julian Assange to JonBenet Ramsey's killer. Into this mass rave of evil comes Donald Trump, a fat Christ sent down from right-winger heaven to clean the temples.
Aw, look at how close he came to getting it right?
(Don't worry, I've saved this idiocy for posterity).
#NoCoincidences, Q.
And that's it for Q for tonight. It will be interesting to see when he posts next and what he posts next, especially as, while the Hatch Act still applies, he seems rather restricted in what he can and cannot say.
Of course, as you saw above, the provision doesn't apply to #QOTUS, so we may be getting some more Q+ posts, if anything important needs to be said right away.
Update:
Q came back with one more post, pointing out something I missed.
The original use of Q's phrase is from exactly one year ago, on November 1st, 2017. Pretty cool!
---
Okay, quick updates.
You all know by now that Gab got wombo-combo'd hard last week, and went down as all its various service providers started pulling their services from it. Hosting, domain name, payments, pretty much everything went poof overnight, and Gab was forced offline. It was the equivalent of corporate #Censorship.
In the wake of it, the founder of Gab, Andrew Torba, was viciously maligned by the media and terrorized at home, when his parents learned that someone had broken in to their house and left the gas running in an attempt to start a fire.
But of course, mission forward.
I still have to post somewhere.
I announced it on Gab, but I'm assuming not everyone saw it: I shifted over to MeWe during the time Gab's been down. Now, I had the MeWe page up and running before, but it wasn't as large as Gab (12,000 subs vs 2,000, at the time  – now over 3,000).
But, with few other choices (and there were a few routes I could have taken here), I opted to hop back on to MeWe for my regular postings,as I only expected Gab to be down for a short while:
Seriously, go there, sign up, and subscribe to the group. It's got a lot of great stuff from the past few days there, including the stunning #ProjectVeritas videos that were like atom bombs against the Beto and Gillum campaigns. (Can't wait to see what else they put up this week!)
Being back full-time on MeWe's actually been pretty great thus far. I've always enjoyed using the platform.
That said, there's no Free Speech guarantee on MeWe, and it's run by people who are basically Bernie-Sanders-tier socialists. While they claim to be open to anyone posting legal content, that claim has yet to be tested. I've been burned too many times by Facebook, and can very easily see someone of a Leftist persuasion labeling my account that of a "Right-Wing Extremist" manufacturing "hate speech," and taking down the account.
So while it's been great in the interim, I fully intend on returning to Gab once it's back up and running.
Because, simply put: Gab guarantees free speech. MeWe does not.
And, judging by Gab's Twitter account, it looks like they're almost ready: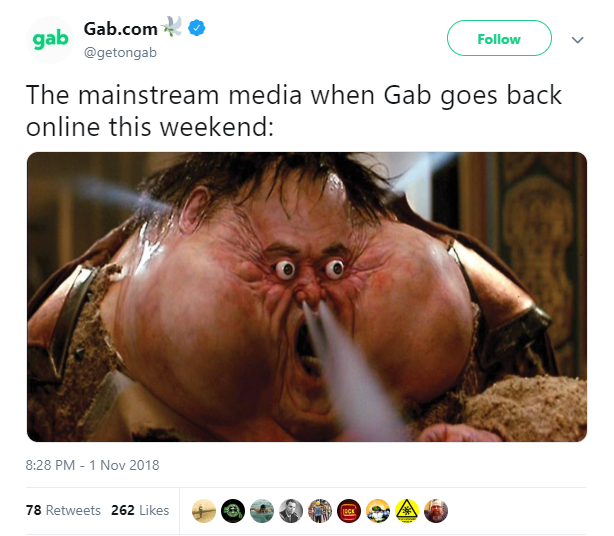 And it looks like they're adding a layer of redundancy by utilizing a tor service, as well. Meaning, even if ISPs decide to start blocking it, you can still access it:
And this all comes with a warning:
One other thing.
I posted this on MeWe as well, but it was chart showing the price action and moving averages on #FANG stocks.
The striking thing? They're all set up for a move technical analysts like to call a "Death Cross." Basically, that's where the price falls below the 200 day moving average. It's a rare signal, and one that portends a long-term bear market.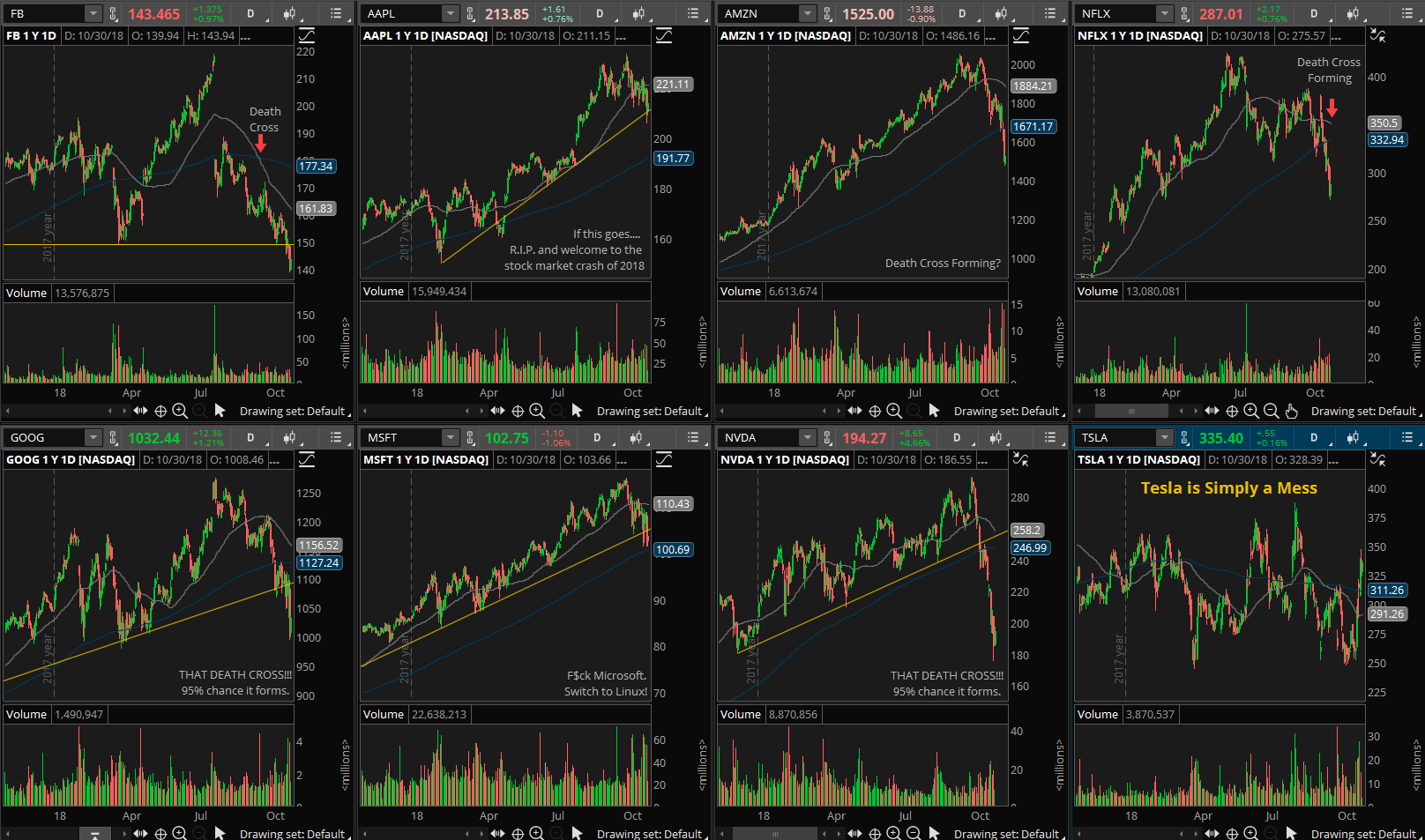 Full size: https://www.neonrevolt.com/wp-content/uploads/2018/11/original_143269556.png
This disturbed me, because, as #Anons noted on the boards today, it looked like someone was trying to lower the Amazon price to 1666, and just overshot a little:
Remember the day they dropped the market 666 points not that long ago? Anons were speculating that this was a signal.
And then there was the post the other day about how #RedOctober actually happened on November 7th…
So combine all that with the numbers above and, well…
I'm being very cautious in this market. Looks like a setup for the perfect storm.
Could be a "Black Friday/Bloody Monday" scenario. But we'll see.
---
Thanks so much for reading and sharing my articles today!
Guys, POTUS just confirmed that he is Q+. We are on the verge of the #GreatAwakening going mainstream, and your support is more important than ever! Gab just lost their Paypal and Stripe Payments integration, so I can't take donations through Gab right now. The site will remain online for the foreseeable future, but every dollar definitely helps me do what I do.
And one way you can support my efforts with the site is through the purchase of a shirt or an awesome QAnon Hat, which you can order in the Neon Revolt Shop! These hats are great, with 3D puff embroidery, and I'm working with great manufacturer to get these made and distributed. People love the hats when they get them.
Shirts are still available in the sidebar, too, naturally.
Thanks so much for your continued support through this wild ride we call Q!