Before we get into it, I posted this on Gab, but I wanted to share again one of the better #QConfirmations I've seen:
At this point, there's no way every branch of the military isn't aware of what's happening with #QAnon – let alone the individuals in charge of the social media accounts.
There's just no way someone would randomly post that if Q wasn't true. That'd be like throwing kerosene on a bonfire, and they wouldn't go there, just out of sheer prudence.
Alright, #NewQ: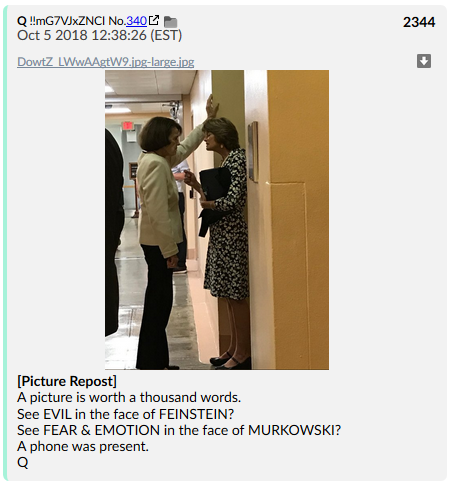 You've probably heard the news by now. While Flake and Collins have fallen in line, Murkowski is the lone RINO to oppose Kavanaugh's nomination:
Alaska Republican Sen. Lisa Murkowski explained her decision Friday to oppose the confirmation of Judge Brett Kavanaugh to the Supreme Court. However, Murkowski also disclosed that though she is "a no" on Kavanaugh, she will vote "present" on Saturday in deference to Kavanaugh-supporting Montana Sen.
That leaves 50 Republicans voting "Yea" for Kav. It'll be interesting to see who the remaining 3 votes are, to bring it up to Q's predicted total, but I'm hoping at some point we get to hear the convo Feinstein had with Murkowski. I know we won't, but man, it would be great if the whole world knew exactly what that traitorous witch, #DiFiChiSpy, was up to.
Oh, and I mean witch literally.
As in, she visits covens.
The Wing is a coven which I've covered before here, on the site:
Hillary at the Witches' Coven. Not Even Joking. #TheCabal #QAnon #GreatAwakening
And you won't guess who else was there, recently:
Yup! These people are SICK!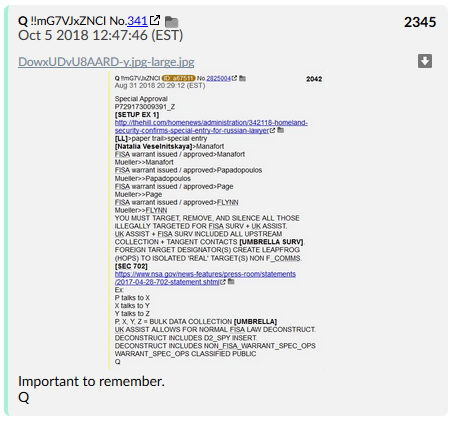 (Just as a side-note, I love that Q uses the tools the community has built to grab his own posts – like here, grabbing screens from QAnon.pub).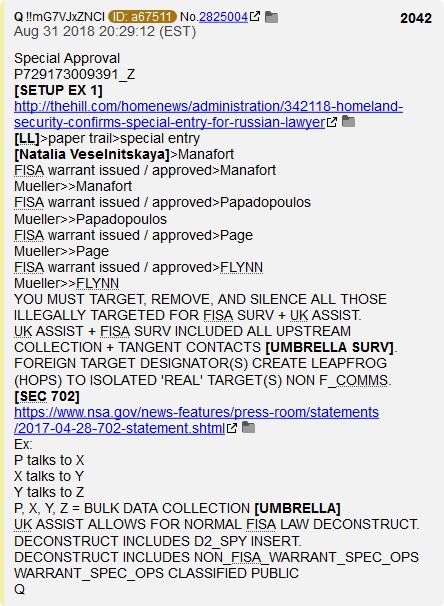 You've seen the drop, and how it relates to Bulk Data Collection; how the FISA warrant sweeps up all the different points of contact the target of the warrant interacts with, so now a bunch of people are being illegally spied on.
But back to the Veselnitskaya issue from yesterday:
It's not clear Veselnitskaya was a pawn or a black hat in all this, but I had a Legionary contact me today and offer some of the digs he conducted along these lines, and while he thought that he "suck[ed] at putting stuff together," I thought it was friggin' awesome, so I wanted to present the whole thing for you here:
John Brennan Dig

Brennan flies to Moscow in March 2016 – This was an unofficial visit and he did not visit the foreign ministry. He met with the Federal Security Service (the successor agency to the Soviet KGB), and someone else." Brennan meets with FSB General Oleg Erovinkin (assumed)?
CIA Director John Brennan John Brennan, the director of the Central Intelligence Agency (CIA), made a secret visit to Moscow in March, according to Russian Deputy Foreign Minister Oleg Syromolotov. The visit, he said, had nothing to do with Russia's decision two weeks ago to begin withdrawing from Syria.
Of notice in the above link "It wasn't clear why Brennan visited Moscow, but the trip appears to have coincided with President Vladimir Putin's surprise March 14 announcement that Russia's combat operation in Syria was ending, and Moscow would soon withdraw a portion of its forces from the country after conducting 167 air strikes.The decision to withdraw was followed by a visit of U.S. Secretary of State John Kerry to Moscow last week. While in Russia, Kerry met personally with Putin and his foreign minister, Sergei Lavrov." Did this have something to do with Brennan / Kerry forcing Putin to back off of airstrikes so they could proceed with their nuclear device?

Oleg Erovinkin

Brennan instructs Oleg Erovinkin to do two things; set up the "hack" for the DNC servers to cover up Seth Rich "leak". Also to setup confidants to be used to supply information to Christopher Steele in the Russia Dossier against Trump.

Ruslan Stoyanov

Oleg Erovinkin enlists his nephew, Ruslan Stoyanov who was the head of the Kaspersky Lab Investigative unit. Ruslan also had ties to Humpty Dumpty or Shaltai Boltai a Russian Hacking group.
"Sergei Mikhailov, a top cybersecurity specialist in the FSB, and his deputy Dmitry Dokuchaev are being accused of breaking their oath and working with the CIA." Interfax News Agency Between October and December 2016, the Federal Security Service (FSB) has arrested Anonymous International/Shaltay-Boltay leader Vladimir Anikeev as well as two of his alleged accomplices Aleksandr Filinov and Konstantin…
Ruslan Stoyanov, Sergei Mikhailov, Alexander Glazastikov, Dmitry Alexsandrovich Dokuchaev, Vladimir Anikeev among others were the core group of "Shaltai Boltai". This group used VPN server from a server in the Altai Region of Siberia.

The group was later arrested and currently in prison for Treason against Russian. Their crime was working with CIA agents.

Incidentally, Dmitry Aleksandrovich Dokuchaev had an FBI Most wanted arrest warrant on him for hacking the Yahoo Servers.
Conspiring to Commit Computer Fraud and Abuse; Accessing a Computer Without Authorization for the Purpose of Commercial Advantage and Private Financial Gain; Damaging a Computer Through the Transmission of Code and Commands; Economic Espionage; Theft of Trade Secrets; Access Device Fraud; Aggravated Identity Theft; Wire Fraud
In a NYT article, Dmitry was also accused of being a double agent for the United States passing off information which is believed to be related to the accusations of electoral hacking.
MOSCOW – Before United States prosecutors accused him of having orchestrated one of the largest computer thefts, Dmitry A. Dokuchaev's legal problems were deepening in Russia, where he was once known by the hacker alias Forb and specialized in purloining credit card numbers. Mr. Dokuchaev, a stocky 33-year-old who appears on an F.B.I.
Four Russian hackers have been rotting away in a notorious prison for more than a year-and they are either traitors to their country for telling U.S. intelligence agencies about Russian meddling in last year's U.S. election or just pawns in a bizarre power game by President Vladimir Putin.
Sergei Mikhailov and John Brennan seem to have known each other. I'm uncertain how, but given that John Brennan was CIA director and had knowledge of all spy cases and actions, it is likely he knew him. Given that John Brennan is a known communist, it is conceivable that he had ties to the old communist members who wished a return to the old glory days.
In addition, the source close to the investigation has confirmed that FSB Colonel Sergey Mikhaylov has nothing to do with the Shaltay-Boltay case. Head of 2nd department of the FSB Information Security Center, Colonel Sergey Mikhailov has retracted his initial confessions. According to Rosbalt citing a source familiar with the situation, now the senior security officer denies his guilt.
Back story on John Brennan's history. John Brennan was recruited by Aldrich Aimes who was a CIA agent turned KGB mole. Aldrich Aimes was convicted of espionage in 1994. Because they knew each other and worked together at the CIA, it is likely that both had similar contacts and one can only assume that John Brennan is compromised as well.

Vladimir Fomenko, the owner of King servers was arrested and questioned then released regarding the "DNC Hacks". I think Vladimir Fomenko was just involved because his servers were used as the source of attacks on the DNC.

Given the timeline of what we know in the US regarding the activities of people like Brennan with the Steele Dossier compilation and pushing it through the media and congress to give it credibility, I'm seeing total involvement from start to finish by John Brennan.

On December 26th, 2016, Oleg Erovinkin was found dead in the back of his black lexus car in Moscow on Boxing Day. Early media reports suggested that he was murdered but later claimed he died of a heart attack (in the back seat of his car? Yeah right, BS here).

Igor Sechin

Notable – Oleg Erovinkin was working as an Aide to Igor Sechin in Putin's administration. Between 31 December 1999 and May 2008 Igor Sechin was deputy chief of Putin's administration. In May 2008, he was appointed by President Dmitry Medvedev as a deputy prime minister in a move considered as a demotion According to Stratfor, "Sechin acts as boss of Russia's gigantic state oil company Rosneft and commands the loyalty of the FSB. Thus, he represents the FSB's hand in Russia's energy sector." Both Oleg Erovinkin and Igor Sechin left Putin's administration in 2012 to focus on Rosneft, one of Russia's big energy conglomerates. Rosneft does have dealings with Nuclear energy. According to one article that I failed to save, Igor Sechin was described as the "Darth Vader" of Russia. Putin likely had to work with him because he was powerful and well connected (Russian version of Deep State or Mafia).

What notable event happened in 2012? Uranium One. Is this tied to Uranium One scandal? I was unable to follow up leads here but I do know that Rosneft pops up on this article regarding Uranium One.
Originally posted on Family Security Matters by Mary Fanning and Alan Jones Gulftainer is connected to the Uranium One deal. Gulftainer is the Iraqi Jafar family's UAE-based ports company that is tightly connected to Russia and Saddam Hussein's nuclear weapons programs. In 2014 the Obama administration awarded Gulftainer a 35-year lease to Florida's Port Canaveral …
If you peruse this article, look whose name pops up!!
Legionary, I won't give your name here, but please – don't discount yourself or your instincts. You just clarified Brennan's probable involvement in the assassination of Russian AG Oleg Erovinkin for a half-a-million people. And that is awesome!
Source:
Brennan flies to Moscow in March 2016 – This was an unofficial visit and he did not visit the foreign ministry. He met with the Federal Security Service (the successor agency to the Soviet KGB), and someone else." Brennan meets with FSB General Oleg Erovinkin (assumed)?

I'm so glad Q verified the veracity of this post. I caught it last night on the boards, and subsequently reposted to Gab (which… come on, SUBSCRIBE THERE ALREADY!) but it's nice to have Q's confirmation that it's not a LARP (not that I thought it was, at the time. Otherwise, I wouldn't have posted it):
Here's the grabs:
Not only did #VIPAnon post that, but he stuck around for a bit of Q&A afterwards. His ID here is highlighted – f665dc:
Are you kind folks watching at home ready for Red Scare Two: ублюдок Booglaoo? 
Q's link lead here:
Which subsequently leads you to this article about how this is basically the "Death Star" of the sea:
Russia's second Severodvinsk-class submarine K-561 Kazan , which is a modified Project 08851 Yasen-M design, went to sea for the first time for builder's trials on September 24. The massive nuclear-powered guided missile submarine (SSGN) was designed by the Malachite design bureau in St. Petersburg and was built in the northern Russian city of Severodvinsk.
Q would go on to explain more in his next post:
So some Black Hat admiral is mouthing off to CNN:
America's most senior naval officer in Europe, Adm. James Foggo, said Friday that he was "concerned" about some of Russia's newer and more advanced fleet of submarines.
America's most senior naval officer in Europe, Adm. James Foggo, said Friday that he was "concerned" about some of Russia's newer and more advanced fleet of submarines.

"Russia is not 10 feet tall but they do have assets that keep me vigilant, concerned. One of them is in the undersea domain," Foggo, the commander of US Naval Forces Europe, told reporters at the Pentagon.

…

"We've seen creation of new classes of all sorts of submarines and ships. I'm more concerned with submarine warfare," Foggo said earlier on Friday while addressing the Atlantic Council in Washington.

"Russians have produced the new Dolgorukiy-class submarine. They've produced the Severodvinsk-class submarine. They've produced the new Kilo hybrid-class submarines," Foggo told reporters at the Pentagon.
#Anon speculates on how this relates to the renegade missile launches we saw foiled: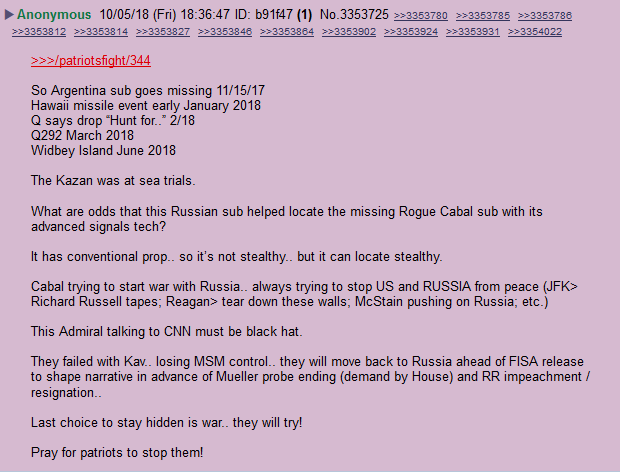 But how about that Admiral Foggo?
#Anons immediately got to digging and found out a number of telling things: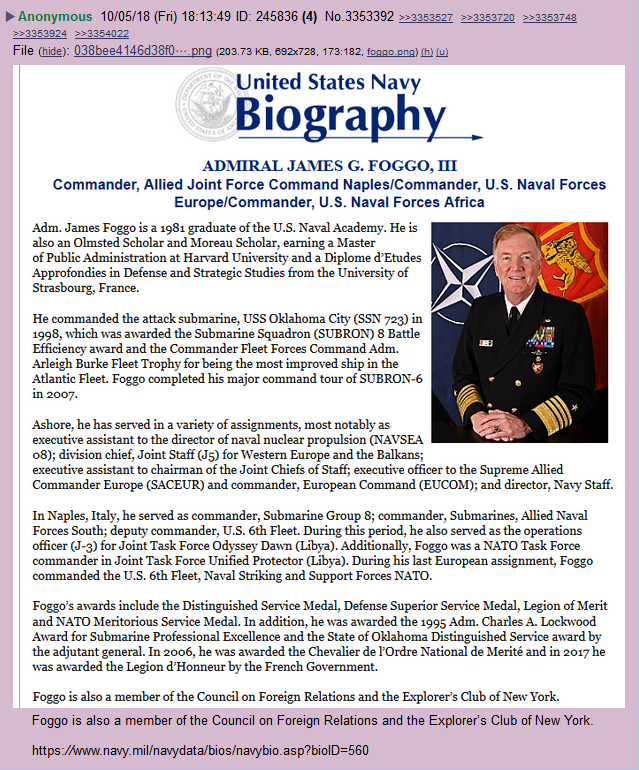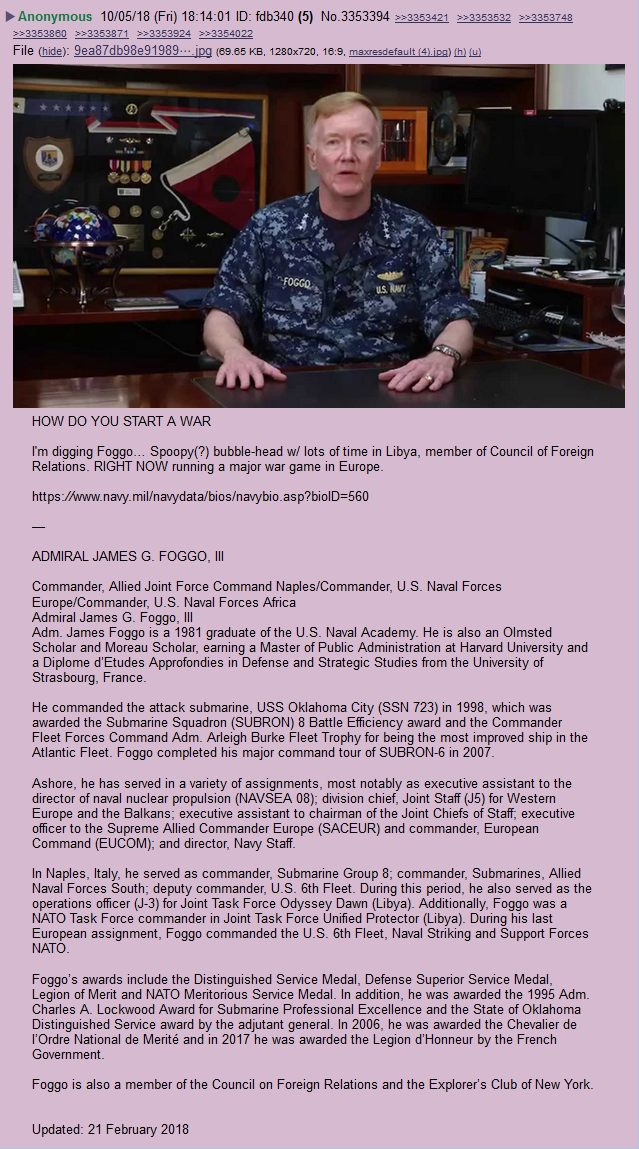 One more clown to turn into confetti, if you ask me.
And we're gonna need a loooooot of confetti, too.
We've got a parade to plan for, after all.
Anon wrote a solid line-by-line:
Kavanaugh's confirmation is basically an inevitability now – and I think it highlights exactly how much power and influence #TheCabal has lost over the past two years.
It doesn't spare me #Sharticus' bloviating, but it does make me look forward to watching the Dems get gutted on November 6th.
But one Anon in particular had a lot of interested ideas, and I want to post the lot of them here:
I was curious where he was pulling his dates from, but then he answered: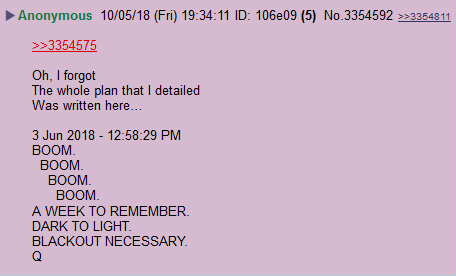 Seems reasonable enough.
This guy gets it.
But another anon replied:
It wasn't me, I swear!
Aww shucks, Anons! I'd shed a tear, if I weren't a sentient, marble, right-wing statue.
Now, for the last Q post of the evening, a lot of Anons felt that Q was actually responding to what the Anon wrote here, so I'm just going to preface with that post:
#TrustPence, too, guys. I watched the whole thing. You should, too.
Amen to that.
I'll leave you with Q's favorite clip, and one note.
This view count was capped 7 minutes after he posted the link:
Keep an eye on it over the coming days.
---
Happy to say that the Redbubble store is up and running again, so if you're in the market for a new shirt, definitely check out all the offerings. And as things cool down, maybe consider something with a longer sleeve, like this Men's Baseball ¾ T-Shirt, or the Zipped Hoodie!
Thanks so much!