Guys, are you ready for this week?
President Trump is expected to declassify documents related to his onetime campaign aide Carter Page and Justice Department official Bruce Ohr, according to a report Sunday. Allies close to the president told Axios the move could happen as early as this week.
This is the point of no-return. In screenwriting, you'll sometimes hear these moments calls act breaks. It's when a choice or a decision is made that is irreversible; it pushes the action along into the next act, and everyone changes forever as a result. History has quite a few of these, and believe me when I say history is about to be made again.
We always knew this day would come…
Q+
You know who that is.
What are the chances #POTUS already signed the order to DECLAS, and now we're just waiting for it all to be announced to the public?
Still not sure what the flag markers mean, even after almost a year…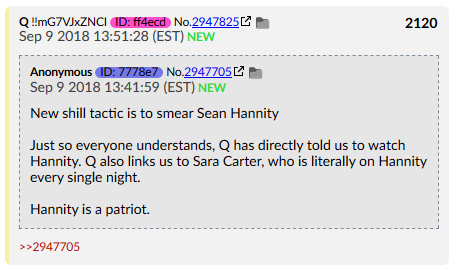 Yuuuuup… Behold!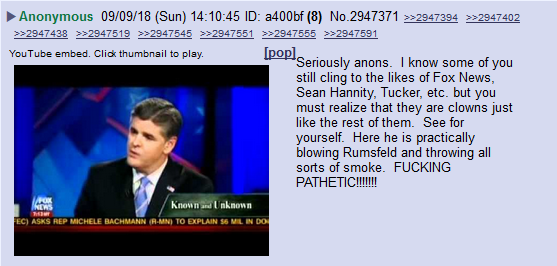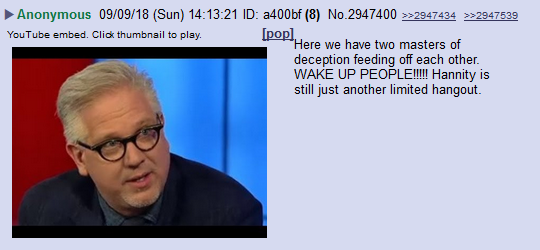 Shills sowing division with deception along the boards. For those who don't know, there are teams of people being paid to do this kind of thing – namely David Brock's Shareblue group. They literally pay them to lie and disrupt all day.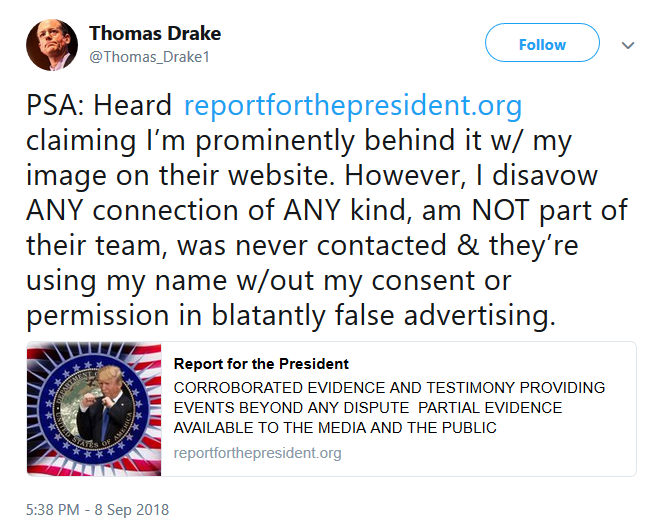 Thomas Drake is a NSA whistleblower, and frankly, I don't know what to make of him, one way or the other.
For a while, many #Anons thought he might be Q himself:
I… have problems with that theory. But instead of "telling you what to think," (which I don't ever want to do anyway), I'll lead you to his wikispooks page, present what I'm going to present – and allow you to make up your mind.
Drake reports that the NSA ere "In short, when confronted with the prospect of fessing up, NSA chose instead to obstruct the 9/11 congressional investigation, play dumb, and keep the truth buried, including the fact that it knew about all inbound and outbound calls to the safe house switchboard in Yemen.
The websites referenced in his tweets are:
No Description
and-
CORROBORATED EVIDENCE AND TESTIMONIES PROVING THE TRUTH BEYOND ANY DISPUTE
JTFMaga was created by #FakeMAGA "Journalist" Jack Posobiec – the same one who has been pushing the "Microchip is #QAnon" hoax for some time now: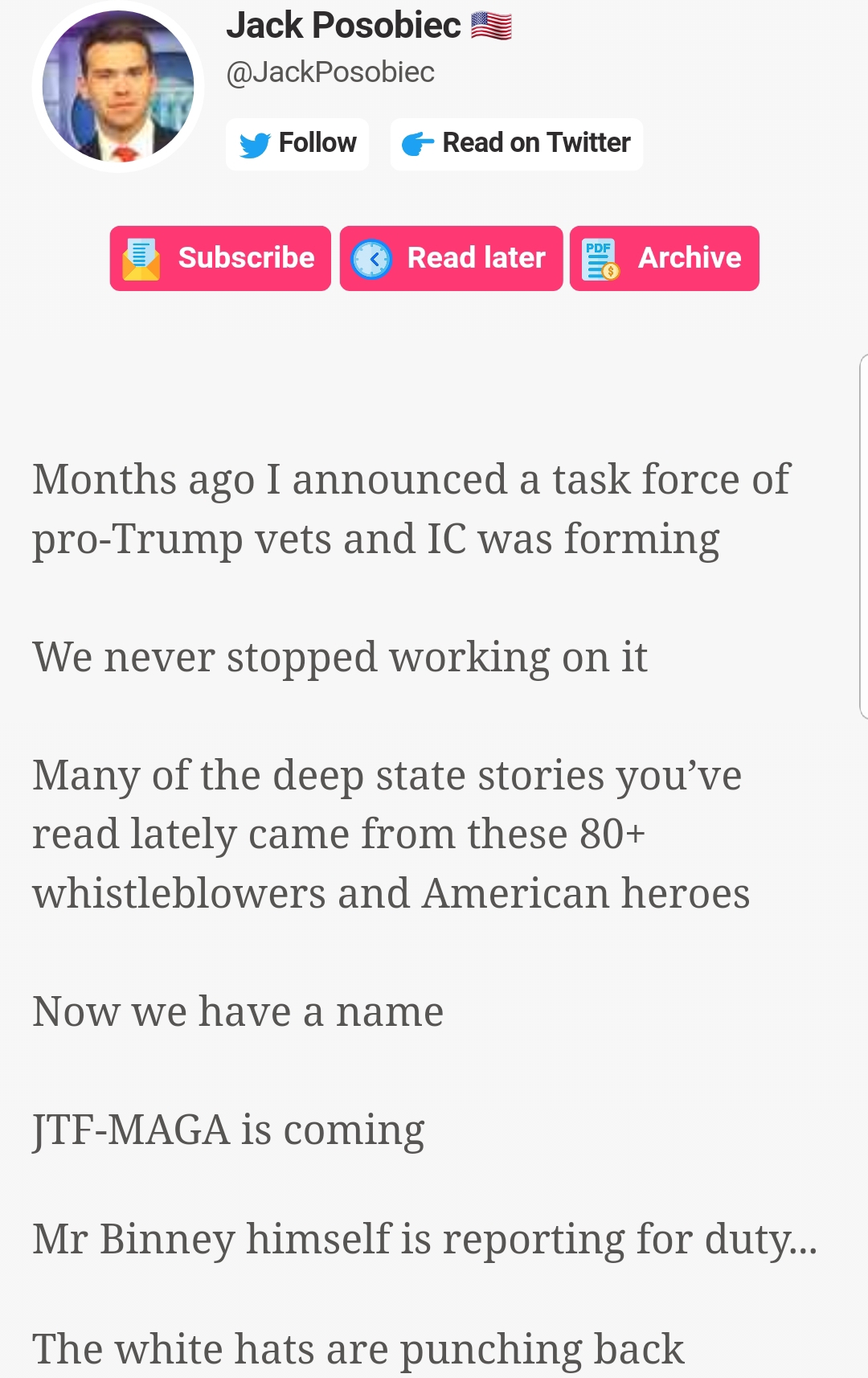 And in case it isn't obvious from the page itself, JTFMAGA is one gigantic honeypot.
They goal is to get "Patriotic Americans" to sign up and "take the oath" presented below – and now… you're on a Deep State list.
And not only is Posobiec involved…
But so is our old Mossad friend #NoNeck!
The second site is much the same, but with more of an "Intelligence community" spin to it. Call it "social proof" for smartie-pants if you want. It purports to be a run by a bunch of folks close to the Intelligence community, ones that claim to support Trump and want to give him Intelligence that…. he supposedly doesn't already have – even sporting a super-special-mega-delux Login page for #POTUS himself (LOL).
Of course, this is all utter Clown nonsense, and they've been attempting to get us – especially the "QAnon influencers" among us (such as yours truly, mods at /r/GreatAwakening, and elsewhere) to jump on board, join their site, and hand over all our private info while leading followers into the very same trap.
I can't tell you how many times I've been sent this video this past week, advertising this group:
I can't tell you why…
But when I was watching this video it just… didn't feel right.
Something about it just didn't sit well with me.
Which is the reason why you're just seeing this from me now.
The last attempt to get me to connect with this was made a few hours before Q posted, and I censored the name above because… frankly, I can't tell who was genuinely fooled by this video and trying to help me, and who was trying to fool me.
So I'll consider that my first real warning – ostensibly being targeted by the CIA for some kind of psyop. Thank you for your prayers, those of you who pray for me. I think they helped here.
Before we move on, though, it's important to know that the drama extended a bit further, and involved Bill "The Eternal Boomer" Mitchell – because that's his group that made the video – YourVoice America.
TheLastRefuge, on twitter, accused him of running a scam after doing some independent investigation of his own:
I've never seen anything that would suggest that YourVoice America is deep-state affiliated (not that I've followed them very closely – because I haven't, outside of catching a few of Bill's zingers here and there on twitter)… but now they're on my radar.
JTFMAGA did try to save face, however:

Well, at least they're a polite honeypot, I guess?
Q linked to a very "special" video Posobiec linked today and told us to look at 21 seconds in:
https://twitter.com/JackPosobiec/status/1038778638613839872
And what did we find there?
Evidently, Microchip is a time traveler now!
I've recently met the guys who made this, and boy, we could really have some fun if we wanted.
You don't have to take my word for it; just listen to the reader in the video. This stuff is pathetic. The ONLY way to prove this would be to invite an objective third party – such as yours truly – on to the server to see for themselves.
A point which I felt needed to be brought home again, because Microchip immediately started spinning things as soon as Q's post dropped: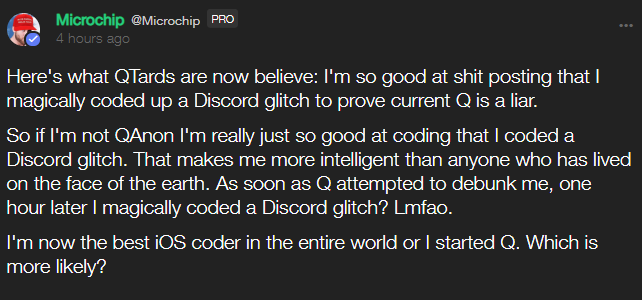 Oh, so this is the angle he wants to take, huh? Set up a (pathetic) false dichotomy and call anyone who says, "Hey, this doesn't look right!" a retard, huh?
This was going to be too easy:
At this point, Microchip had been intermittently hooting at me like some kind of tree mammal for several days now, so I knew he'd been itching for a fight:
Weak arguments from a weak man. I have no problem reminding him he's weak, even as his conscience sears itself. Because ultimately, he knows he's lying. And that makes him angry and emotional:
Reminding him of his inconsistencies, and how he moved his own goalposts over the weekend was strategic. First, he said he was going to "end QAnon" in 48 hours. Then it became 72 hours. And then, I'm pretty sure at one point, it even ballooned to a week!
Either way, it was clear he needed more time to execute on whatever charade he was planning: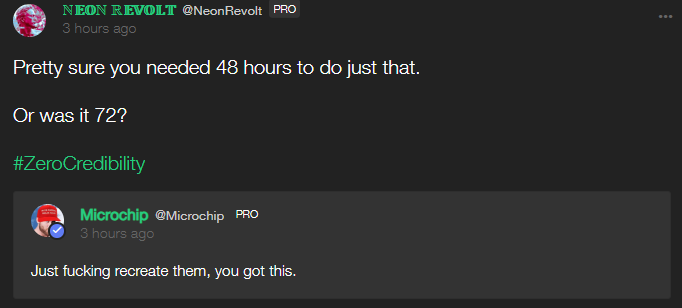 One of Microchip's really transparent "tactics" (and I hesitate to relate his buffoonery to anything even remotely resembling "tactics)" is to try to control the "battlefield" and then get his foe to lose ground.
Here, he keeps insisting it was code – and then calling himself a great coder.
One problem: No code was necessary in order to perpetrate any part of this hoax – and I intended to prove it in short order:
Figured I'd have some fun with it at least:
I don't take Microchip seriously, and neither should you. He's the #Laughingstock of the Internet now.
But note how he's intentionally missing the point.
Of course I could make a better fake if I wanted to sit down and spend multiple hours on it. I didn't. I whipped this up in under five minutes as a proof-of-concept. And I kept whipping them up just to keep making fun of him:
For the record, I was glad he noticed the formatting "mistake." Just something I picked up from the master himself; intentionally making a mistake to draw one's enemy out so they can correct your "mistake" and expose themselves.
But see… now I know why Microchip won't let me into his Discord server.
It's his safe-space where he hashes out all his deepest, most vulnerable questions with his most trusted friends:
He wasn't happy.
And that's when he made his mistake. I almost couldn't believe he fell for it:
He said the exact font needed to fake the screenshots.
This is like a counterfeiter telling you you're using the wrong shade of green.
He then went FURTHER, not realizing his mistake, and repeatedly tried to discredit me by demonstrating how all my margins were wrong.
Which is, you know, exactly the kind of thing you would take into account… if you were trying to make convincing fakes!
For the record, I wasn't.
I was just making fun of him.
And setting out some bait.
The best part of it all is he has to then use an image that has him saying "Pee is literally stored in the balls" to make his point.
And then, the delicious Morello cherry on top of this #QAnon Sundae is that he didn't even spell "margins" correctly.
"Mar-i-gins."
Micro spel gud.
Micro big geenyus.
I have to wonder now if he's intentionally missing the point, or if that's the drugs.
Ah, Adderall-addled brain at work.
At this point I had what I needed, so I decided to make my exit. Mission accomplished.
He's totally not a counterfeiter!
He just knows all the particulars about counterfeiting screenshots for this very particular application and platform!
You'll note, I was much nicer to him this time around. Why, I could even see us becoming great friends if he'd just give up this charade. But he'd need to admit it all first and come clean to everyone.
And oh my word, yes!
We've got to go over the rest of this drop!
First, Jack got caught in a lie. This is from today:
And here's the archived thread where he actually claimed the opposite, six months ago! (I had a screenshot of this before, above).
Thread by @JackPosobiec: "Months ago I announced a task force of pro-Trump vets and IC was forming We never stopped working on it Many of theries you've read lately came from these 80+ whistleblowers and American heroes Now we have a name JTF-MAGA is […]"
Secondly, it looks like Q is telling us that OANN is now comped by Mossad.
Lastly, Q references these a Tucker Carlson broadcast by directing our attention to his recent tweets:
Q shows us the discrepancy between the dates directly, in case we weren't picking up what he was putting down.
But for the record…
I think I broke Microchip, guys:
And then he really spells it out.
I like my version, though. That face…
It just makes it perfect.
MAN THE MEME CANNONS! FISA INBOUND!
FISA INBOUND!
READY WHEN YOU ARE, Q!
---
Hey guys, thanks for reading and sharing my articles today. I'm excited to share this with you because Threadless decided to give me a coupon to give to all my readers.
From now, until 9/10, all domestic Threadless orders over $45 will receive free shipping using the discount code: FREESHIP918
I've got a lot of awesome t-shirt designs, including the excellent Where We Go One, We Go All – Tigerstripes shirt. So if you've been eyeing one or two of them, this is the perfect time to pick 'em up.
You can check out some of the other designs available in the sidebar, here on the site, and of course the whole store can be found at https://neonrevolt.threadless.com/
Thanks so much.