Just a quick preface before we begin: What follows is often disjointed, and I do get very frustrated at one point – but I think there are some really important nuggets here, and there is a lot of intrigue – so as always, I will do my best to present my best understanding to you now.
Now I originally wanted to get this article out the door sooner, but to be frank, I think I experienced some major burnout. The articles you see here are just a fraction of the work I do. Between reading everything I can on the boards, researching, handling store orders, and tending to a community across more than three platforms… Yeah, I burnt out pretty hard and took a few days off. Didn't even check notifications for anything and I have about ~80 comments pending on my own site alone right now.
It's not even just the amount of work, but the subject matter. This is often tough stuff we're dealing with here: Satanic Ritual abuse, human trafficking, human sacrifice, cannibalism, etc.  That delay was also compounded by how much original research I had to compile here to make sense of these very cryptic drops. I've got stuff here you literally won't read anywhere else, because no one else has dug up what I have, here, today.
And I hope you understand that I'm not complaining. I just needed a little balance in my life – and my upcoming vacation can't come soon enough.
(And yes, I know there've been two #NewQ drops, but let's face it: they were pretty simple to understand on their own. I'll tack them on to a new post whenever #QAnon starts dropping again).
With all that in mind, get ready, because we're about to go deep:
An intriguing #Anon came on the other night, and dropped crumbs for three days.
I had been keeping tabs on him, following along, and trying to capture everything I saw. Because he doesn't have a secure tripcode, I had to go by style, tone, and content.
As with all so-called helpers, I'm not concerned so much with vetting them as much as I am concerned with examining the information they present. So this comes with the standard boilerplate disclaimers: YMMV, take it or leave it.
With that said, I've dubbed this particular anon #SkullAndBonesAnon, or #SKBAnon for short.
The background to all of this, the event that prompted SkullAndBonesAnon to start his drops, was the moving of 1 ton, bronze Baphomet Statue to Little Rock, Arkansas:
LITTLE ROCK, Ark. –  The Satanic Temple temporarily placed a bronze statue of a goat-headed, winged creature called Baphomet at the Arkansas State Capitol during a rally to call for the removal of a Ten Commandments monument already mounted on Capitol grounds.

About 150 Satanists, atheists and Christians attended the First Amendment rally Thursday. The Satanic Temple says the Ten Commandments monument violates constitutional freedom of religion rights and that the installation of their 7 ½-foot-tall (2.3-meter-tall) statue showing the 14th century idol seated and accompanied by smiling children would demonstrate religious tolerance.
And all this lead to the first appearance of SkullAndBonesAnon, on Friday night – here with the ID code of 27792a:
SKBAnon is hard to follow – especially as these are subject in which I am not as well versed as others… but I'll try to organize what I can glean from the above posts.
There's a Skull & Bones Affiliated organization that is being exposed. (Possibly related to that DOJ plane the other day?)
This S&B Organization is connected to the Clinton Foundation in some way.
It runs as a non-profit.
Moving the Baphomet statue there is a distraction to direct attention away from what is happening to this organization right now.
He talks about winners and losers from the farm bill…
And Mena shutting down.
The lines about the summit are the ones that confuse me the most. Summit and "No voices heard at summit" as well as "False claims" and "psychotropics dispensed" are… very vague. I have no reference point for these lines, and I think he thought Anons understood… when there was no evidence to indicate that they did.
Regardless, it looks like SKBAnon's main contention is that this area around Little Rock is a major hub for Cabal-affiliated activity, and one group in particular is in the process of being exposed.
Let's tackle the Farm Bill for a second.
The 2019 Farm Bill is gigantic. I'm talking hundreds of pages.
As for the "losers" in it, one stands out in particular:
– Kill the flagship international food aid program, Food for Peace, which is operated by the Agency for International Development AID), to save $1.6 billion in 2019.  AID has stated that The Food for Peace Program has provided food assistance around the world for more than 50 years. Approximately 3 billion people in 150 countries have benefited directly from U.S. food assistance.  The purpose of the Food for Peace Act is to:  (1) Combat world hunger (2) Promote sustainable agricultural development (3) Expand international trade (4) Foster the development of private enterprise and democracy in developing countries (5) Prevent conflicts.  The Food for Peace Act governs concessional sales of U.S. agricultural commodities to developing countries as well as providing for the direct donation of U.S. agricultural commodities for emergency relief and development programs.
USAID runs the Food for Peace program. And if I had to guess… I imagine they're not helping people as much as they would like you or I to believe (though I don't have any evidence to back up that bit of speculation, currently).
There's also this bit:
– Eliminate not just Premium Subsidies but also Commodity Payments to farmers who have adjusted gross incomes of more than $500,000 which is to be determined by a means test.  Crop insurance is purchased by agricultural producers, including farmers, ranchers, and others to protect themselves against either the loss of their crops due to natural disasters, such as hail, drought, and floods, or the loss of revenue due to declines in the prices of agricultural commodities. The private companies are obligated to sell insurance to every eligible farmer who requests it and retain the risk of the policies written.  The USDA subsidizes the farmer-paid premiums to reduce their costs.
And Mena out of Business? Mena, Arkansas?
That would imply that there's some kind of crime being carried out of that place…
And it just so happens… a 1995 issue of Penthouse (of all places) talked extensively about CIA operations out of Mena, Arkansas:
(Don't worry, this isn't a Penthouse link. This is someone who copied the text of the story. It's all text):
Of the many stories emerging from the Arkansas of the 1980s that was crucible to the Clinton presidency, none has been more elusive than the charges surrounding Mena.
Barry Seal – gunrunner, drug trafficker, and covert C.I.A. operative extraordinaire – is hardly a familiar name in American politics. But nine years after he was murdered in a hail of bullets by Medellin cartel hit men outside a Salvation Army shelter in Baton Rouge, Louisiana, he has come back to haunt the reputations of three American presidents.

Seal's legacy includes more than 2,000 newly discovered documents that now verify and quantify much of what previously had been only suspicion, conjecture, and legend. The documents confirm that from 1981 to his brutal death in 1986, Barry Seal carried on one of the most lucrative, extensive, and brazen operations in the history of the international drug trade, and that he did it with the evident complicity, if not collusion, of elements of the United States government, apparently with the acquiescence of Ronald Reagan's administration, impunity from any subsequent exposure by George Bush's administration, and under the usually acute political nose of then Arkansas governor Bill Clinton.

The newly unearthed papers show the real Seal as far more impressive and well-connected than the character played by Dennis Hopper in a made-for-TV movie some years ago, loosely based on the smuggler's life. The film portrayed the pudgy pilot as a hapless victim, caught in a cross fire between bungling but benign government agencies and Latin drug lords. The truth sprinkled through the documents is a richer – and altogether more sinister – matter of national and individual corruption. It is a tale of massive, socially devastating crime, of what seems to have been an official cover-up to match, and, not least, of the strange reluctance of so-called mainstream American journalism to come to grips with the phenomenon and its ominous implications – even when the documentary evidence had appeared.

The trail winds back to another slightly bruited but obscure name – a small place in western Arkansas called Mena.
SKBAnon continued in the next thread, this time as ID 3c7cc0:
SKBAnon confirms, at the very least, that this organization he's describing is involved in human trafficking, and gives what looks like a trafficking route.
To pull one post out of order, here's a list of abbreviations he confirmed:
So that would, in turn, read:
Pine Bluff -> Little Rock -> Roland -> Conway -> Mena -> Fort Smith -> Fayetteville Express Pipeline.
Here's what that route roughly looks like on a map:

Full Size: https://www.neonrevolt.com/wp-content/uploads/2018/08/firefox_2018-08-20_00-19-36_compressed.jpg
WS will later be revealed to be Warren Stephens, of Stephens, Inc:
His wikipedia entry also notes:
During the 2016 election, Stephens and his brother Jackson Stephens were major financial supporters of the Stop Trump movement.
And we know he's part of at least one secret society: Kappa Beta Phi.
Some of the performances seemed to skirt the edge of taste, as Warren Stephens, an investment banking CEO, went on stage in a Confederate flag hat and sang a song referencing the financial crisis, to the tune of 'Dixie'.
So its not out of the question that he would be involved in, potentially, other organizations.
One anon ventures a guess at SKBAnon's mysterious trafficking organization: HMA –
It's very unclear what SKBAnon meant by "No real re-entry… because the anon he was talking to was just compiling links to his previous post. I have to speculate that he was responding to someone else, and made an error with the link, and my best guess is the anon above, because it carries the HMA thread.
But for those unfamiliar…
The Health Management Associates Scandal refers to the sale of tainted blood from HMA (a now defunct American company based in Arkansas) to Canadian blood banks.

HMA was contracted by the state of Arkansas to provide health care to prisoners in the state of Arkansas in the early to mid-1980s. This arrangement allowed HMA to collect blood from the prisoners. The blood, some of it proven to be infected with HIV and hepatitis C, was found in the Canadian blood supply. It was not found in American supplies because of a ban on prisoner blood use.

The president of HMA at that time was Leonard Dunn, a close friend of Bill Clinton and Vincent Foster. He chaired Clinton's re-election campaign and was appointed by Clinton to the Arkansas Industrial Development Commission. Foster committed suicide on July 20, 1993. Conspiracy theorists have tried to link his death to HMA and the Whitewater Scandal to prove he was murdered.
Interesting that he says the company never shut down, and went into non-profit mode for the Clinton Foundation… Hmm…
So Stephens funded the moving of the Baphomet statue to Little Rock?
I'm thinking CW and DD are names of organizations (because SKBAnon here says WS used the membership fees of these organizations to fund the moving of this statue) – though no one has currently figured out what was meant by either:
Okay, so the pattern gets a bit clearer now.
Refer to the human trafficking pipeline mapped out above.
SKBAnon is alleging that there are Fraternal Lodges/Masonic Organizations along this route, which help facilitate human trafficking.
Back to WS. Mystery already solved. Moving on:
Interesting…
Anons had been digging on Heifer International earlier that day, and had turned up some unusual things. The short of it is, Heifer is a charity that purports to give cattle and livestock to the poor, overseas. So, for instance, they'll track down a rural farmer who is struggle to feed his family, and give him a goat. The goat gives milk, eventually meat, and helps them out for a time.
Of course, empty livestock crates that you can move freely across borders would be an incredible cover for human trafficking operations.
Aaaaaaand they're HQ'd in Little Rock:
Too many "coincidences," if you ask me. It's no wonder #Anons were paying attention to it.
But back to SKBAnon:
CSPS = Clinton School of Public Service, for the record.
And here's a map that shows how close it is to Heifer international. I've highlighted a few points of interest, as well:
Full Size: https://www.neonrevolt.com/wp-content/uploads/2018/08/firefox_2018-08-22_21-05-17_compressed.jpg
I'm not sure what WHBLS, is, however. I searched all over that area on various digital maps. I couldn't find anything with those initials. Any guesses from anyone who lives near there?
Just to be clear, we jumped ahead a bit. This was when Anons were still trying to guess what WS meant. As you saw, it wasn't "Wall Street."
Mrs. Clinton has had connections to the Stephenses, too. According to a Stephens official who asked not to be identified, Mrs. Clinton once represented them in litigation. Public records also show that her firm has represented a number of Stephens entities. Mrs. Clinton's career has produced most of the family's wealth.
Two days before Bill Clinton's bitterly contested re-election in 1990, the Arkansas Governor grew concerned that his campaign was slipping. He placed calls to members of an influential Arkansas business group, asking them to raise $50,000 for his campaign, according to people involved in the effort.

Mr. Stephens and his associates quickly agreed to raise the money, providing the pledges that helped Mr. Clinton get $50,000 from a bank the next day. The money was used for last-minute television advertisements. Thus began an important financial alliance that has helped drive Mr. Clinton's campaign for the Democratic Presidential nomination.

In the last week of the 1990 campaign, the Clintons took out two personal loans totaling $100,000, to use in the 1990 campaign. The $100,000 notes are due on demand and have not yet been paid back. In its most recent state filings, Mr. Clinton's committee reports that it still owes the money.

A review of Mr. Clinton's personal and political finances shows that he has accumulated little personal wealth. He has spent most of his career in public service, and as Governor he earns only $35,000 a year, plus a little more than $5,000 in honorariums or speaking fees last year. As a result, he has accumlated (sic) far fewer assets than his wife, Hillary, a lawyer and senior partner in the Rose law firm in Little Rock.

…

No one is suggesting wrongdoing in the Stephens-Clinton connection. But it is a vivid example of the sorts of enduring political relationships that enable a small-state politician like Mr. Clinton to become a contender in the campaign for the nomination. Scores of $1,000 Donors

The Stephenses and their associates have raised more than $100,000 for Mr. Clinton's Presidential campaign so far, soliciting donations from scores of business associates and friends who each contributed up to $1,000, the maximum allowed under Federal laws.

…

By the end of last summer, Mr. Clinton's Presidential campaign had raised about $200,000, and Worthen Bank employees were the most frequently identified source of contributions, election records show.

Since then, the campaign's fund-raising efforts have taken off. Mr. Clinton raised more than $3 million in the last quarter, about one-third of which cames from Arkansas, according to Rahm Emanuel, the national finance director for the Clinton campaign.
I don't think the article SKBAnon linked really answered any of the questions, and apart from having the membership rolls of these orgs, I honestly don't know how he expects anyone to answer his question.
That said, I didn't realize Rahm had been with the Clintons that far back.
The bank used was actually listed in the article above: Worthen Bank and Trust Company.
CB was mentioned in the article, too: Curt Bradbury.
He still works for Stephen, Inc.

Full Size: https://www.neonrevolt.com/wp-content/uploads/2018/08/firefox_2018-08-22_21-30-37_compressed.jpg
As this particular thread began to fill, this is where one Anon finally figured that WS = Warren Stephens – and
SKBAnon came back in the next thread, with a new ID (ca2457), and confirmed WS:
Note: this location IS along the route SKBAnon described above.
Also Note: it's not just the 300 acres of land. It's 300 acres of adjacent farmland.
Also Also Note: This is a "members only" club. As in, you can't even buy membership. You have to know someone and be invited.
So there's your Skull and Bones connection.

As for "Peanut Farmer," I think SKBAnon might be pulling a bit of a misdirect here.
"Peanut" is an unincorporated town in Arkansas.
And yes, our proposed trafficking route cuts right through it.
You can see a couple of routes here:
See how close that cuts?
Of course, it could also be a literal peanut farmer. And to make matters more confusing, it could be a peanut farmer living in Peanut, Arkansas.
It's hard to say without any direct local knowledge, so again, if any locals in the comments want to leave their input in the comments, that would be extremely helpful.
SKBAnon then offered this:
The Alotian Club has been described as the "Area 51 of Golf" by golf aficionados. There's an air of mystery about the place, due to its exclusive nature. One thing that is known is that they hold a children's golf clinic there every year.
And it's an odd name for a golf club, no? Where did it come from?
The Alotian name comes from the annual golf trips Stephens once took with his buddies. He called it America's Lights Out Tour, and they were the Alotians.
Source: https://www.golfdigest.com/story/the-alotian-club
That's… potentially very creepy.
As for who cut down the trees, well… that would happen during the construction of the course. Tom Fazio was the guy who designed the course. To date, he's designed just shy of 30 courses around the world. That doesn't mean this is who SKBAnon is referring to, but it's a start.
And the member roster?
Well, these names are public:
Well, there are only two officially confirmed members: Warren Stephens, owner and self-described "benevolent dictator," and Glen Day, the PGA golfer who now claims Alotian as his home course.

But the names of some of the members of the ultra-expensive, ultra-exclusive golf-only club off Highway 10 west of Little Rock have started to enter the public domain. The sources of this information are not going to be named, and they sure aren't the members themselves, who are rumored to have been cowed by the summary dismissal of two members whose lips proved too loose.

Suffice to say that Arkansas Business believes all of the following individuals to be members of The Alotian.

* Curt Bradbury, chief operating officer of Stephens Inc., the investment bank that Warren Stephens heads.

* Ralph Bradbury, Curt's brother and former president of Continental Express Inc.

* Bill Clark, chairman and CEO of CDI Contractors LLC, which is partially owned by Dillard's Inc.

* William Dillard II, chairman and CEO of Dillard's Inc., where Stephens is a member of the board of directors.

* Michael T. Flynn, who retired last year as assistant to Alltel Corp. CEO Scott Ford, who may also be an Alotian member.

* Joe Ford, chairman of Alltel and Scott's father.

* Byron Freeland of the Mitchell Williams Selig Gates & Woodyard law firm in Little Rock.

* Dr. Bill Henry, a Little Rock radiologist.

* Stan Payne, an executive with Rebsamen Insurance Co. of Little Rock.

* Martin Rhodes, who sold his Rhodes & Associates instance agency to Brown & Brown in 2002 and was named president of Stephens Insurance Services in January.

* Gary Smith, former Arkansas president of Bank of America and owner of Glass Erectors of Little Rock.
Looking pretty Skull and Bonesy if you ask me…
As for yachts… I think SKBAnon is implying that they bring a yacht or two onto the main lake at the property, in order to partake in their more sinister deeds.
Maybe a map would help us visualize this…
Here's the whole course:
And zooming in on the clubhouse, and the lake we see:
Full size: https://www.neonrevolt.com/wp-content/uploads/2018/08/firefox_2018-08-22_23-00-17_compressed.jpg
That looks about a five minute walk.
(And for the record, that picture of the clubhouse was from pinterest, which saved that screenshot. The architect that did all that expensive work has actually scrubbed it from his own site. Archives don't even exist, as far as I can tell. You have to wonder why someone would want pics of all their hard work taken down from the internet, right?)
There are, a few other, larger lakes on the property (with docks attached), but I think that's the most accessible lake, when you consider the distance they'd have to haul the boat. What I mean is this:
They're obviously not keeping the yacht in the lake. If I had to guess, they're bringing it ashore through the landing area at that Jolly Roger's Marina, across the highway. So they drive it up, cross back over the highway, through the access road, past the grounds-keeping area at the east of the compound, and follow the road over to the lake.
It looks like they have an area here, where they could back the boat up into the water:
But the other possibility is down here, at the southern lake. Note, all the tire tracks:
Southern lake might actually be the most likely candidate, here.
As for the farm bill… it now occurs to me that SKBAnon might not be talking about the 2019 farm bill, but the 2018 one… in which case, SKBAnon might be talking about people like the Waltons (the founders of Wal-Mart), the richest family in the United States.
The Waltons have their fingerprints allllll over Arkansas. From their HQ, to Arkansas University in Fayetteville (again, along the proposed trafficking route), they've got the money and influence to spread all over the state.
And about this time, anon had a realization:
And yup, SKBAnon confirms:
Now that is interesting. I had always suspected this, personally, but to connect it to the DOJ…
We talked about that mysterious DOJ plane here, if you need to catch up:
Duck capital – Stuttgart, AR.
All I have for Stuttgart right now is a list of all the 501(c)(3) orgs in the area:
This list may be incomplete, but nothing on it stands out at the moment for me.
However, my digging did lead me back to this story, which brings us all the way back to the last stop on our trafficking route, Fayetteville:
Archive: https://archive.fo/7RgEe
The Palladian Order of Skull and Bones…
Maybe this is what SKBAnon has been trying to point us to this whole time.
See, these secret societies, even this cult we collectively call #TheCabal, isn't this monolithic thing. If you remember back to my [P] article, you'll remember Springmeier's structural diagrams: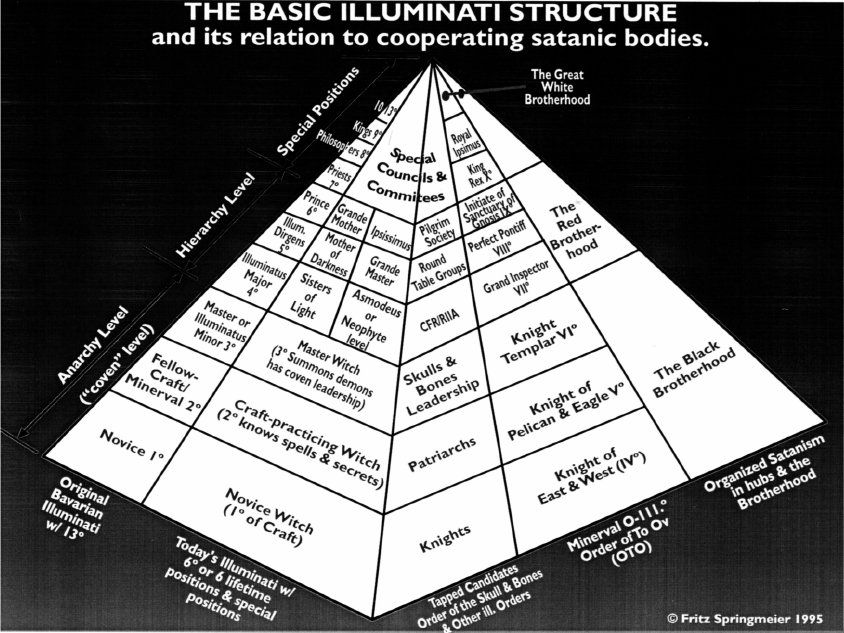 Point is, there are many groups, many branches, and many offshoots.
Let's listen in to some of "Michael's" story:
I am a student at the University of Arkansas at Fayetteville. Last Fall semester, I was mistaken for a student called "Michael", and I was approached by an older student in an unforgettable way.

I was tapped very roughly on my left shoulder, spun around, and handed a black book with a tiny skull and bones pin stabbed into the front cover. Underneath the book was a parchment-colored scroll with a huge crimson colored wax seal on it. I couldn't see the design. As I was spun around, the person asked me something like, "Palladian Order of the Bones…Accept the Light?"

It scared the hell out of me, naturally. Just as I was about to ask what this was about, a tall student yelled something at us, ran up to us and grabbed the stuff from me.

He and the other guy turned and walked away.

…

I went on to the student Union and had lunch with some friends. I told them what happened. About a week later, one of them came to me with some info.

At out college, one of the oldest Greek-letter fraternities is the Kappa Sigma fraternity. Their house is gorgeous; an old, ivy-covered brick 3-story house. I started my search by talking with a senior-year Kappa Sigma man.

In 1912, the Kappa Sigma house created a Tap-Society called "Skull and Key"; the purpose was to select the best and brightest of senior-year fraternity men and unite them into a nepotistic network of old money and new talent.

He told us that the "Keys" were an offshoot of another, much older group called "The Palladian Order of Skull and Bones". The split – away happened because of newer pledges rebelling against the long-standing tradition of Bonesmen having to join the Masonic Lodge upon graduation. Skull and Key, on the other hand, only required that its men belong to a fraternity- any Greek-letter frat.

…

Fayetteville, Arkansas has the disctinction of having the first Masonic lodge in the state: "Washington 1 Lodge" (named after Washington County, I guess?)

Some of these University Alumni are former Freemasons, and they really filled in the holes in my search for answers about the Bonesmen.
Got all that so far? Because now comes the bombshell:
Shortly after its inception, the college became the University of Arkansas (1871) Not many people outside of Arkansas have ever heard of Albert Pike, but apparently he was a lot more than just a famous Arkansas lawyer and civil war general (the south).

Albert Pike, a very powerful and influential 33rd-Degree Scottish-Rite Freemason, created the "Palladian Order of Skull and Bones" at the University of Arkansas on May 1, 1876.
Albert Pike wrote the book on modern Masonry. Literally. The full title is: Morals and Dogma of the Ancient and Accepted Scottish Rite of Freemasonry.
From what the former freemasons told me, this senior-year secret society was founded on the ideal that Pike could control Arkansas politics by producing class year after class year of loyal, educated men who were bound to later join the Masonic Order.

Many cities in Arkansas have memorials, highways, and statues of Albert Pike. Even the Scottish Rite temple (A HUGE, immaculate building) is named in his honor, complete with library and marble-tiled flooring. The wealth this organization has is just incredible.

ANYWAY….point being that this group that I unwittingly encountered is very old, very secretive, and very disagreeable to revelation.

…

Please forgive my lack of coherency as I type what I know… The University of Arkansas produced a once-powerful politician after whom many buildings and even a college has been named: Senator Fulbright.

Fulbright was a Rhodes Scholar who returned and was University President for a time.

Bonesmen tap seven college men each year, and may tap up to three faculty or area business men.

While University President, Fulbright was faculty-tapped in the Order of Skull and Bones. He later moved on to become a famous politician.

While teaching law at the University of Arkansas, a Rhodes Scholar named William was faculty-tapped into the Palladian Bonesmen: We later knew him as President Bill Clinton.

I have on good authority that the son of the head of the Federal D.E.A. (and former Arkansas congressman Hutchinson) was tapped.

It is strongly rumored that the son of a prominent Federal Judge in Arkansas was tapped in 1993; the son now works at a very prestigious Arkansas law firm.
Now here's where it gets really crazy…
Ok,

Now you know that "Why" of their existence.

We learned much more than we ever wanted to about the Skull and Bones of Arkansas, though!

It started with the founding of Chi Omega sorority. This large, national sorority was created at the University of Arkansas many years ago.

Part of the Chi Omega sisters' Initiation Ritual include a coffin and a death-burial-rebirth kind of thing.

Each year, the initiation coincides with the Palladian Skull and Bone's Initiation Ritual. The blindfolded pledge girls are brought before the pledge boys and are made to perform services upon them in order to complete their ceremony and join the sorority.

In exchange for this annual sexual event, the Bonesmen apparently swear to protect these young women, help them find work after college, get better grades or admission into graduate school, get them grant money,etc.

Now THAT is CREEPY stuff.

I have heard unsubstantiated rumors that the Bones Initiation is pretty gruesome. I hope to figure out where it's held and maybe tape it or something.
And now something has stuck out in my brain.
Because going back to that list of non-profits in Stuttgart, we find this:
Ding ding ding! I think we have a winner!
I tried to grab these next bits in a sort of question-answer format. SKBAnon is ID ca2457 here:
Rachel Brand has a major Wal-Mart connection.
Does this imply she's part of Chi Omega?
Interesting. So Augusta was the location for this branch of the cult, before Alotian…
But as for his questions, it's the second time he's asked this, and I have no idea how to find out who cut down the trees and sold the land.
Spoiler alert: neither did any other anons.
Look, this is a message to any future droppers who want to emulate Q. There's nothing wrong with posting open-sourced links online. If you know of a directory where this kind of stuff is listed, POST IT. Don't just expect us to always be able to find every piece of minutiae like this – especially when you don't have the attention of the whole hivemind.
Yeah, your local shriners aren't pulling this kind of stuff. They're just having BBQ's and fundraisers.
That said, SKBAnon continues with his biggest drop to date:
We'll try to break some of this down over the next couple of posts, but as you can see… it's going to get complicated real fast.
Anyway, I found the Jeannette McDonnell reference, and it's a perfect example of what I'm talking about.
Her last name isn't really McDonnell.
He's talking about a Rockefeller who got remarried:
Jeannette was married three times in her life, the last of which was to Winthrop Rockefeller – a third generation Rockefeller and the governor of Arkansas.
Winthrop was a Yale boy, so you can pretty much safely bet he was old-school Skull and Bones.
And Jeannette was the chairwoman of the Arkansas Arts Center for a time, and has a gallery named after her there…
And, as we should know by now… Modern Art is really a CIA front. And that's not even "conspiracy" territory. That's 100% Public info:
We talked about some specifics a LOOOONG time ago, and Oh.. look who appears again – Rockefellers:
There are some more weird coincidences in this drop, though. Let's focus on the lines
Crystal or glass?
Bridge or pyramid?
First, Crystal Pyramid mine, in Montgomery, AR:
And yes, we cross by it again on our potential trafficking route, on our way to Mena, Arkansas.
What about Crystal Bridge?
Well…
Another modern art museum in Arkansas.
Guess who founded it.
Yup, the Waltons pop up yet again.
And that line about their imagery bring the downfall, and how the 13 bloodlines are so arrogant?
Well…
Look what I found:
Archive: https://archive.fo/xmpF6
This interview is filled with some weird lines, too – consider what we've learned from Q. Talk of "riding horses" and selling "children's dresses." It could be completely innocuous, or it could be double-speak. And then there's stuff like this:
Collecting the artifacts of high culture with the proceeds of big business is a familiar progression for titans of industry. Henry Clay Frick was a coke-and-steel manufacturer and a railway financier before he became the founder of the jewel-box museum on the Upper East Side that bears his name. The core collection of American art at the de Young Museum, in San Francisco, was donated by John D. Rockefeller III, with wealth originally generated by his grandfather, the founder of Standard Oil. In 1903, Isabella Stewart Gardner used an inherited industrial fortune to build a Renaissance palace in the swamps outside Boston. Wilmerding says, "Alice absolutely belongs in that lineage of Isabella Stewart Gardner and Abby Aldrich Rockefeller"—the driving force behind the foundation of moma.
Read between the lines, people!
Anyway, that museum is in Bentonville, which puts it directly north of our potential trafficking route, Fayetteville, by some 20-odd miles:
Is this the ultimate terminus for children being trafficked along this route?
SKBAnon continues:
As you can see, #Anon was confused by the McDonnell reference, too – but he did find the OCSE, so credit where credit is due. Looks like SKBAnon is implying this is one way they obtain children to traffick.
Repeated references to "red" got Anons thinking of blood, which lead one Anon to post this:
Now this is where it gets even crazier, because this is the Health Management Blood Scandal.
Basically… in the late 80's, Health Management Associates sold bad blood, harvested from prisoners in Arkansas, to Canada's medical system. The blood was tainted with things like hepatitis and AIDS, and yeah, a LOT of people got sick:
The US never got infected because of laws that prevent the sale of blood from prisoners here, but yeah, THOUSANDS of Canadians got infected as a result of this program – and it wasn't fully exposed until 1998.
Meanwhile, it was one of Clinton's buddies running HMA, and yeah, this guy, Leonard Dunn… he also knew Vince Foster.
More potential Palladian Skull and Bones members?
In fact, a whole documentary has been made about the subject, and yes, you can watch it on Bitchute:
First line in the movie? A prisoner talking about a "River of blood."
Guess that answers the line where SKBAnon says, "Yes, The River Knows."
I have no idea what this organization turned into, after it was shut down. I looked, but I couldn't find any information on that front.
But I have to wonder about his intel regarding Thiel and Vitalik Buterin (aka "Money Skelly" [look at a picture of him to see why he has that nickname, lol] aka, the creator of the cryptocurrency Etheruem).
If Thiel was in the process of being courted by #TheCabal, he's totally flipped by now. He's been #TeamTrump for quite some time, and the government has Palantir access out the wazoo now.
I mean, why do you think Trump took THIS picture in SA?
RIYADH, Saudi Arabia – A mysterious glowing orb is exerting uncanny power over the world's social media. President Trump, King Salman of Saudi Arabia and President Abdel Fattah el-Sisi of Egypt entered a darkened room filled with row after row of computers in Riyadh, the Saudi capital, on Sunday evening.
He was making a visual reference to a Palantir – one of the mythical seeing orbs from The Lord of the Rings. It was yet another signal to #TheCabal that he had access to, and knows everything about them.
So I'm not seeing the Thiel connection here, just yet, let alone the Vitalik/Ethereum connection. Thiel doesn't need to launder money through ETH, into Palantir. He's got billions of dollars in US Army contracts. So I have to wonder if SKBAnon is not mistaken on this point.
Regardless, Anon then somehow managed to dig up this reference:
More details follow:
So it looks like #TheCabal dropped this plane out of the sky to take New York Times Frankfurt Bureau Chief Nathaniel C. Nash (who SKBAnon referred to in his "Fake NYT Nazi Chief Pedophile takedown" line), and Former DNC chairman and Secretary of Commerce Ron Brown…
Lots of CEOs on that flight, too:
Also accompanying Brown on the economic development trip were Jim Lewek, a Central Intelligence Agency analyst; Lee Jackson of the Treasury Department; and Nathaniel Nash, The New York Times' Frankfurt bureau chief.
Looking more and more like Arkancide to me, at any rate.
I can't take the "river of blood" lines any more, though, so I'm going to jump ahead to when Anon finally figured it out:
SKBAnon's response here makes very little sense to me, but I'll try my best.
My tentative theory at this point regarding 1861 is that it is a reference to Albert Pike – that Mason granddaddy we talked about before. In 1861, he penned the lyrics to the Confederate war-song, Dixie to Arms!
Now think back to my article about [P].
Re-read this part:
#TheCabal's tactics are the same back then, as they are today: divide and conquer. Instead of fighting the US and Russia – have the US and Russia fight each other.
Instead of fighting the North and the South, have the North and South fight each other!
Pike helped foment that with musical propaganda – and the sick thing is, it almost worked.
You may not recognize the title, but believe me, you've heard the song:
But he didn't stop there. When SKBAnon says "follow the letters," I think he means follow Albert Pike's letters:
As for the "River of Blood" plaque, here's a close-up:
And when searching for this, there are actually a TON of #FakeNews articles about this subject. It was like the media became obsessed with it at one point. Why? Even if the plaque is incorrect… so what?
I have to wonder if this isn't yet another subtle signal to #TheCabal that Trump knows about what really went down with the prisons and everything in Arkansas – which would explain the media freakout, at the behest of Clown handlers.
Seriously, there were a ton of MSM articles about it.
At the base of a flag pole, beneath the Trump family crest, it concludes with a few words from the course's owner: "It is my great honour to have preserved this important section of the Potomac River!" There is just one problem. Historians say no such event ever took place.
Donald Trump challenged local historians in 2015, "How would they know that? Were they there?"
It even got it's own Snopes page:
A plaque displayed on a golf course owned by President Trump commemorates a Civil War battle that never happened. In a May 2017 interview, President Trump hypothesized that President Andrew Jackson (1829-37) could have prevented the Civil War if he had been President at the time the war broke out (1861), and Trump went on to wonder aloud why the issues leading up to the war could not have been "worked out."
This one was especially clever, attempting to link it to Enoch Powell's famous speech:
https://www.nytimes.com/2016/01/23/opinion/campaign-stops/donald-trump-and-the-rivers-of-blood.html
(Enoch was right, BTW):
Anon had one potentially helpful answer:
Not sure what to make of it, just yet, though…
Oh wow. Cabal Beard.
He's saying Jeannette Rockefeller was cover for Winthrop Rockefeller… who was actually homosexual.
And to answer his question, this guy runs the foundation, now:
I honestly don't know how Anon hit on this, but he finds a story about Viva Rio being used to abduct children.
SKBAnon will call it a pipeline:
SKBAnon then gives another follow-up drop:
Hmmm….
I'm sorry guys, I am doing my best here. SKBAnon isn't as good at dropping as Q, and seems to have even less of an understanding of what we know and what we don't know.
If he wants us to make connections, he needs to better understand what we actually know. We can't connect an unknown to a known. It's like trying to clap with one hand. No matter how hard you try, you're not going to get the intended result. We need a point of reference.
Anyway, he's talking tunnels now, which…. I thought was a given when dealing with traffickers, but okay.
Luke Dowdney? – CIA? MI6?
http://fightforpeace.net/about-us/our-founder/
This looks like the recruiting funnel they used to find him:
WHAT WE DO

1) IDENTIFY AND SUPPORT THE WORLD'S LEADING SOCIAL ENTREPRENEURS:  We find and cultivate social entrepreneurs in every corner of the world, whose systems-changing innovations solve deep-rooted social problems.  We invite them into the Ashoka Fellowship – providing early stage financial support and a lifetime membership into an expansive network of peers and partners – enabling them to achieve their vision and have even greater impact. We then draw on the insights and patterns of these 3,500 Ashoka Fellows to understand what the future needs and how to create new solutions for building a better world.

2)  EQUIP EVERYONE TO BE A CHANGEMAKER:  We inspire and enable changemaking in the public at large and work to give all citizens the confidence and tools to solve problems for the good of all.  Specifically, we focus on preparing the next generation to navigate this rapidly-changing world by ensuring all young people have the critical skills they need.

3) ACCELERATE THE "EVERYONE A CHANGEMAKER" MOVEMENT:  We mobilize a network of organizations to join us in shifting mindsets and reshaping how we learn, work, and live together to catalyze changemaking for the good of society.  We partner with schools, universities, corporations, citizen sector organizations, media and other influencers to co-lead this movement with us.
Yeah, come on. That's old-hat CIA. They do the same thing with shell companies in tech all the time.
Oh, and what a surprise. They're HQ's in Arlington, Virginia.
Totally not CIA, guys. Totally.
(I'm pulling these out of order, but basically, SKBAnon confirms and expands here):
The thing about the NRA no longer having to reporting donors… it was sold as this good thing, that Conservatives should LOVE and embrace.
(Ever think you'd read a CNN headline that put the NRA in a positive light? That should be your first clue something fishy is going on).
No, this new rule allows for "dark money" to circulate with no oversight, to all manner of organizations. The Dems and the Deep State benefit the most from this, because it lets them hide their dirty deeds.
Anon then reports more on Viva Rio:
Oh, now this is interesting. He's saying that one of the guys who died in the crash, Ron Brown, was being groomed for the position of #POTUS before he was killed in that plane crash…
He was a Cabal-up-and-comer, and must have found himself at odds with Hillary Clinton, which is why he was Arkancided.
Of course, this was before ANY of the Monica Lewinsky stuff came to light, and ended up derailing the Clintons for about a decade. Meanwhile, the Cabal regrouped under Bush II. Obama came to prominence, and Hillary made a deal with the devil. "Her turn" would arrive- even if it was going to arrive late.
At least, that's what she believed.
Honestly – I didn't know this existed until now…
Is this the clubhouse he's referencing, then?
I thought I read the word "Castles" in one of these drops – but for the life of me, I can't find it now. I sincerely hope I didn't accidentally delete a drop – I don't think I did, but regardless of whether it's there somewhere, or whether I'm just hallucinating at 5:30 AM, following the length of time I've spent looking at all the drops and research for this article, it's worth noting that the Knights of Pythias refer to some of their lodges as "castles."
As for "find the multiples…" again, SKBAnon, we have no reference point. Multiples of what exactly?
I must have missed those threads. I think I would remember Vanderbilt blood jewelry.
And before you ask, yes I searched /comms/.
Without that reference point, unfortunately I don't know what to make of this.
…Unless he's talking about that pendant Gloria Vanderbilt wore in that pic with her sons…
But why call it "blood jewelry?" I did extensive coverage on that pendant… There were no references to blood in any of the threads I saw…
Okay, wait, this is getting my attention now.
I expressed my doubts before about Ethereum, Vitalik, and Thiel, but this…
Okay, so SKBAnon is saying they're selling political blackmail on all these bad actors on the dark web, using cryptocurrency…
And I do know for a fact that Vitalik has been talking to Putin, in regards to cryptocurrency and the Ruble.
(Why not use Monero, though? Eth can be tracked, albeit very difficultly, especially if you're using different laundering services… or, you have a gigantic stockpile or clean coinsfrom a Initial Coin Offering).
This all certainly fits with SKBAnon's story: he's a tech guy, ran servers for the Skull and Bones' affiliated organizations, held on to e-mails for protection, and knows a thing or two about crypto and the deep web…
I have to sit back, after reading this, and wonder what secrets about various Skull and Bones members might bubble up to the surface now, if any of this is true.
Maybe none. Maybe they'll all be bought up by other bad actors looking for blackmail to protect themselves with.
Either way, I find this a really compelling way to explain the DOJ plane in Little Rock the other week. If any of this is true, it wasn't directly affiliated with the Clinton Foundation, but with all the Skull and Bones' organizations surrounding it. If you think of it all as a network, it's like watching all the nodes surrounding the Clinton Foundation node flicker out and die.
Suffice it to say, that was the end of his drops, as far as I know.
If anyone knows of any I missed, please leave direct links the comments below.
And I realize I wasn't as thorough as I normally like to be – but given the sheer number of drops, the amount of fresh research I was able to collect, the very specific nature of these drops, and the presence of a very real communication gap – I honestly did the best I could here. Please, if you guys can fill in any of the things I missed, go for it in the comments. There are plenty of lines to pick from here – but I hope, at the very least, you were able to walk away with a better sense of what's going on. If you're like me, SKBAnon filled some gaps in your knowledge and really challenged you to dig deep into the research.
Okay. It's now 6AM at the time I'm done writing this, and I've spent hours upon hours across multiple days looking into this subject.
So I'm going to crash hard in bed now.
Hopefully this article will inspire SKBAnon to come back and clarify some of the points he attempted to make, because I really think we're on to something here.
---
Hey guys, thanks for reading and sharing my articles today.
By now you know about my Threadless store, where you can buy all my awesome t-shirt designs, including the excellent Where We Go One, We Go All – Tigerstripes shirt. This is a men's tri-blend t-shirt in navy blue, but we've got this design and more on shirts for women, children, long sleeve, short sleeve, hoodie,  heck – even shower curtains (if you're so inclined).
Got a Trump rally coming to your neck of the woods? I'd love to see if one my readers could get a call-out from Trump! Threadless is great; they'll get your shirt printed and out to you in a jiffy, and you'll be supporting my work, like the article above, here on the site.
You can check out some of the other designs available in the sidebar, here on the site, and the whole store can be found at https://neonrevolt.threadless.com/
Thanks so much.