#QAnon came back with two new posts late at night, and normally, I would just add them to the previous post, but because of their content, I wanted to give them a whole dedicated article, because man-oh-man… with Q confirming what he just did, things just went to a whole new level.
Before we get in to that, while I did make not of it on Gab, I wanted to make sure I noted on the site here that Claire Bronfman and several others were arrested in relation to the #NXIVM human trafficking/sex-slavery cult. She's that Seagrams heiress, and owner of most of that Fiji Island, Wakaya.
Heiress Clare Bronfman, one of the four more people arrested in connection to the bizarre sex cult NXIVM, may have correctly anticipated such arrests and legal problems. She [owns] the majority of Wakaya Island in Fiji as a possible place to escape.

Bronfman, daughter of the late billionaire philanthropist and former Seagram chairman Edgar Bronfman Sr., and an heiress to the Seagram's liquor fortune is said to have bought Wakaya Ltd., which owns about 80 percent of Wakaya Island in Fiji on August 11, 2016.

Bronfman is the known financier of the cult's founder Keith Raniere. Raniere is Bronfman's acknowledged mentor, and Bronfman is said to have committed a vow of obedience to Raniere as his "slave" and joined his harem.
I delved into the the whole Wakaya issue and some of the related players some months ago – even calling out this company in particular – so you can catch up here if you to:
But with that out of the way, let's start with Q's first image drop:
We've been over the Five-Eyes stuff before, but #Anon extrapolates for us:
Is it any surprise that we're now seeing all this talk about Brennan and Clapper and their ilk having the security clearances taken away? They're already trapped!
No more scheming for you, traitors!
But now… now, to the big, bad mamma-jamma Qdrop that I've been just itching to get to:
READ IT! READ ALL OF IT!
The president can and will take control of the Fed. It may be recalled when the law was written creating the Federal Reserve the secretary of the Treasury was designated as the head of the Federal Reserve. We are going to return to that era. Like it or not the Fed is about to be politicized.
This is the MOTHER OF ALL BOOMS, and the Ron-Paul-Libertarian in me nearly collapsed and fell on the floor when I saw this.
I know, I know, some of you are out there reading this like, "Monetary policy, Neon? That's what gets your heart beating?"
And the answer is YES!
And by the end of this little diatribe, it'll get your heart beating, too.
Let me explain:
The money you have in your wallet isn't what you think it is. It's not actually money. It's a debt-note, and has been the single most effective tool of our collective enslavement to #TheCabal.
Here's the classic image:
Read the top lines on both dollars. What's different?
That's right: Silver Certificate vs Federal Reserve Note. There was a time in this country when you could take your dollars to any bank in the nation and exchange it for silver or gold; ie, something with tangible value.
When the system switched to debt notes in 1913, with the passage of the Federal Reserve Act, US citizens could no longer exchange their bills for precious metals.
This was a move that unilaterally benefited the (Rothschild-owned) banks, and which has lead to the systematic devaluation of our money, bleeding us dry through inflation.
Oh yeah, these bankers also added owls to the bills:
Because, despite the name, the Federal Reserve isn't a Federal agency. It's a privately owned bank. Q said as much himself, a while back:
And don't even get me started on how they got this law passed, what with the Titanic and all that…
Check the death manifests to see which wealthy bankers were on-board… Conveniently, it was all the wealthy and influential bankers who were opposing JP Morgan's plan for the Fed.
With them finally out of the way, Morgan and his Jekyll Island crew were able to influence the likes of Woodrow Wilson into passing the Federal Reserve Act, thus enslaving all future generations.
Prior to this, Congress had the exclusive authority to issue money for the nation. When they exercised that authority, we were free (including income-tax-free), prosperous, and enjoyed some of the best economic growth ever seen on the face of the earth. After 1913, it was all downhill, and that's no exaggeration.
BlackPigeonSpeaks has a great short video on this subject:
And the most insidious thing about this system is that it's PERPETUAL DEBT. You can't make enough to ever pay it off, because each new dollar issued is issued at interest!
(As a side-note, this is why Cryptocurrencies gained popularity so quickly – and why they have such incredibly high rates of appreciation. They're not debt instruments! They have more in common with fungible commodities, than they do with paper dollars).
(So yes, you should be buying some #Bitcoin for your retirement account. And maybe some #Ethereum and #Ripple while you're at it. And yes, I think this is the start of a new bubble cycle, and consider these prices the current "ground floor" for the next few months – but that's not investment advice).
And that's a subject for another time.
The point is, if you're going to try and eliminate the national debt, there's two things you can do:
1) Try to pay it off like a hamster running in a wheel until it dies from exhaustion, or
2) Realize the whole system is corrupt, broken, and illegal… and dispense with the whole charade.
And remember what Q said: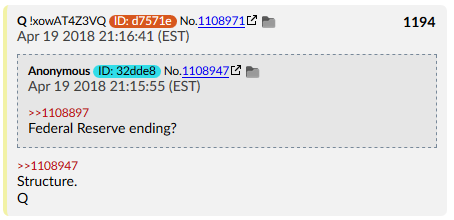 Now, I don't know exactly what this new, restructured system will look like, but by-golly, I'm willing to go along for the ride if it even means a chance at getting REAL money back, and potentially eliminating the Federal Income Tax.
By Trump going in this direction, it strikes at the very heart of the beast that is #TheCabal. It would literally STARVE it and set it back hundreds, if not thousands of years. And yes, I think it's okay to be that hopeful.
Trump has been signalling this kind of thing for a long time, too. It's one of the reasons that convinced me to vote for him – because he was talking about this stuff. And since taking office, he signalled this in a MAJOR way when he hung Andrew Jackson's portrait in the Oval Office:
Remember, Jackson was the guy who not only survived a Rothschild assassination attempt, and once said, before shutting down the equivalent of the Fed in his day:
Gentlemen! I too have been a close observer of the doings of the Bank of the United States. I have had men watching you for a long time, and am convinced that you have used the funds of the bank to speculate in the breadstuffs of the country. When you won, you divided the profits amongst you, and when you lost, you charged it to the bank. You tell me that if I take the deposits from the bank and annul its charter I shall ruin ten thousand families. That may be true, gentlemen, but that is your sin! Should I let you go on, you will ruin fifty thousand families, and that would be my sin! You are a den of vipers and thieves. I have determined to rout you out, and by the Eternal, (bringing his fist down on the table) I will rout you out!
And then when Trump talked about how McKinley funded the entire government with tariffs alone:
"President McKinley, who felt very, very strongly about this — the country was very, very successful; we actually operated out of cash flow, if you can believe it,"
Yeah, no, it's pretty clear what Trump wants to do, and that's why I'm calling this his Declaration of War against #TheCabal. If we're lucky, he'll outdo Ron Paul's wildest dreams, and ensure a prosperous and free nation for many generations to come.
I'll leave you with this great little cartoon, if you want to learn more about this subject:
---
Hey guys, thanks for reading and sharing my articles today.
By now you know about my Threadless store, where you can buy all my lovely t-shirt designs, including the excellent Where We Go One, We Go All – Tigerstripes shirt. This is a men's tri-blend t-shirt in navy blue, but we've got this design and more on shirts for women, children, long sleeve, short sleeve, hoodie,  heck – even shower curtains (if you're so inclined).
Got a Trump rally coming to your neck of the woods? I'd love to see if one my readers could get a call-out from Trump! Threadless is great; they'll get your shirt printed and out to you in a jiffy, and you'll be supporting my work, like the article above, here on the site.
You can check out some of the other designs available in the sidebar, here on the site, and the whole store can be found at https://neonrevolt.threadless.com/
Thanks so much.