You see this image?
As far as anyone can tell, this image is genuine.
And it looks a whole like like  "Comedienne" Sarah Silverman issuing a "Stand Down" order to the chans.
Yes, you read that right: "the" Sarah Silverman who at one time not only dated Jimmy Kimmel, but once said:
"I hope the Jews did kill Christ. I'd do it again. I'd f*cking do it again, I don't care." – Sarah Silverman
And now, here she was, trying to get the chans to "stand the f*** down."
As far as Anons could tell, the only editing used on the photo was, ironically, to mask some wrinkles (because you've got to maintain that illusion of perpetual… well, I hesitate to say "beauty" but we'll run with "youth" for the time being). The image on the phone was, evidently, not photoshopped, nor was this simply a case of someone slapping a hand holding a phone over Sarah Silverman's dimly-lit face.
No, this was Sarah legitimately thinking she could intimidate the "Internet Hate Machine" by taking a selfie with some text on it.
It went over about as well as you would expect.
Here's a sampling of Anon's responses:
And how can you not love the attitude:
But why?
Why would Sarah want to embark on such a foolish course of action, and think she could hold sway over the vast army of #Anons who are out there, every day, doing God's work and exposing the cancerous rot in the heart of the nation?
Well, let's back up and set the stage a bit.
A little under a week ago, someone who the Anons would eventually dub #BlackListAnon came online and started dropping breadcrumbs. This, in all honesty, deserves a full article in and of itself, and while I won't be focusing on that today, the main gist of those drops was that #TheCabal has traceable economic and political ties to Hollywood, and uses a particular mechanisms to promote and protect insiders; insiders like Graham Moore (son of Michelle Obama's former Chief of Staff Susan Sher) who wrote the Imitation Game and eventually won the Oscar for it, and Noah Oppenheim, who wrote Jackie and who, as President of NBC news, spiked the Harvey Weinstein story well in advance of it eventually appearing in the New York times.
And again, while this really deserves a whole article, one post from BlackListAnon in particular stands out:
And it's true. After BlackListAnon started dropping on Noah Oppenheim, NBC turned on the propaganda machine against #QAnon:
So the heat was turning up in Hollywood, and as all this was unfolding, Anons were simultaneously digging into the social media history of Guardians of the Galaxy director James Gunn. What they discovered was a TON of disturbing pedophile-related messaging, just sitting out-in-the-open for years. I covered that story here:
Those diggs went viral, and lead to the swift removal of James Gunn from the Guardians franchise, leading the likes of Yahoo! to call this the diabolical work of "white supremacists."
Yes, that's right. They called Jewish Lawyer Mike Cernovich a "white supremacist" because he helped expose these tweets.
Because everyone who opposes the Left's tyrannical collectivism is automatically a Nazi these days.
This, despite the fact that, what was it, something like three weeks ago, every single leftie in the universe was cheering the firing of Roseanne Barr.
And if you ever wondered what the mental gymnastic equivalent of a quadruple pike dismount looked like, you now have your answer:
For some reason, this firing really enraged the left. Even with the overwhelming quantity of evidence, this… struck at the heart of the #CancerousLeft that we haven't seen since… frankly, the defeat of Hillary.
Why? You would think with all the #MeToo posturing, the constant lecturing about "secular" sex ethics, they'd be on-board.
So why weren't they?
I'll tell you exactly why: because James Gunn? He's no different from 95% of the power-brokers in Hollywood. They're all scumbags, and if he could be taken down and exposed, they all could.
Hollywood is in total freak-out mode right now, and it was made all the worse by the appearance of a new anon, who first dropped in on 7/19, in a James Gunn thread on /pol/, and who would later become known as #Renegade.
Now, I'm going to present this first by pulling from an infographic that was assembled by an anon, compiling all of Renegade's posts from the first night, to try and make this as readable on the site as possible. I'll then include the big infographic at the end.
Also note: Renegade uses some language I, personally, would never use. He also describes some graphic things. If you're a regular /pol/ user, this won't affect you, but if you're a normie, it might upset you.
That said, here he is in the original James Gunn threads on 7/19, answering anons' questions:
And as promised, here's the mega-infographic containing all of those posts: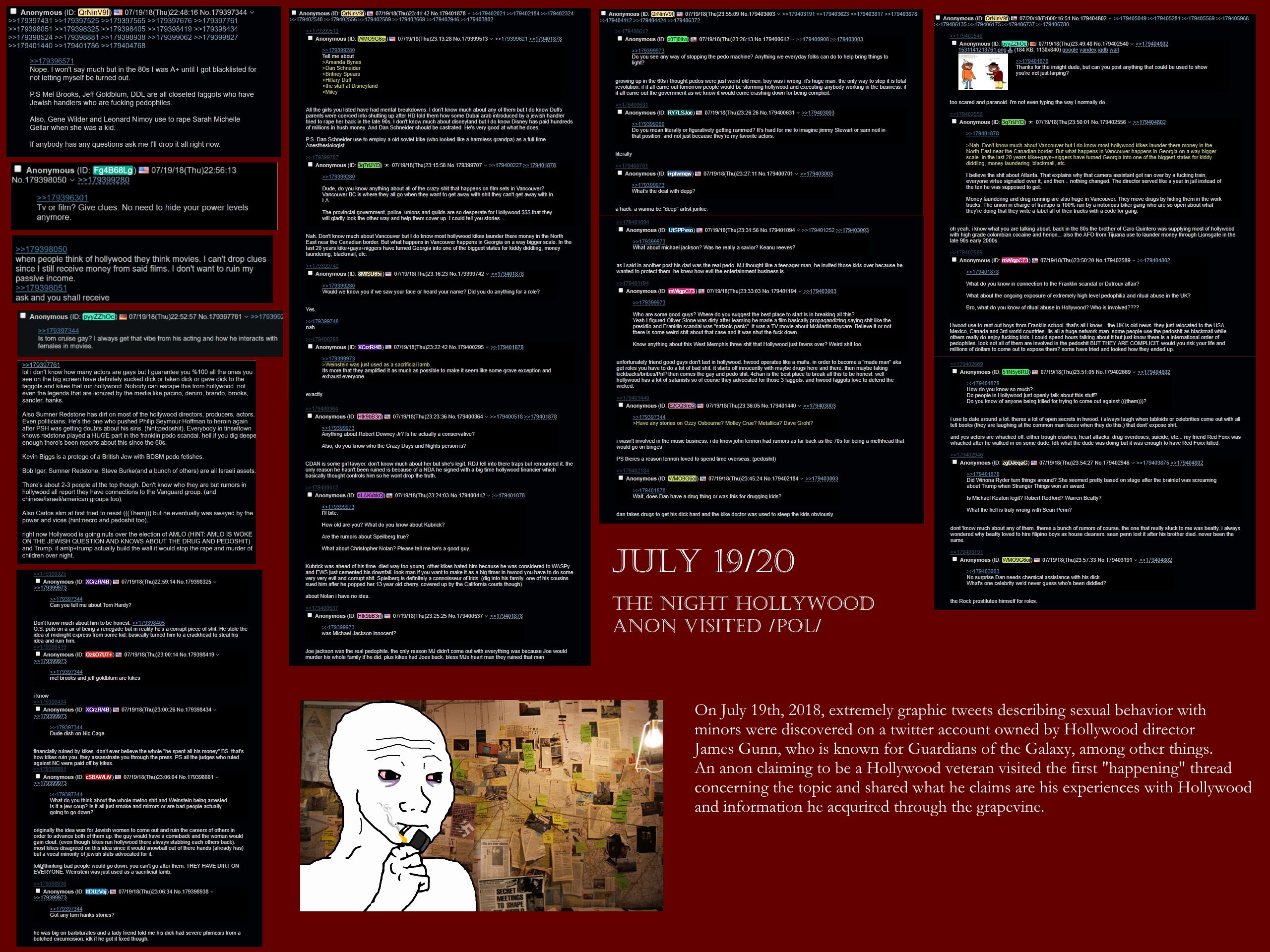 (Source: https://www.neonrevolt.com/wp-content/uploads/2018/07/Renegade_compressed.jpg)
But as you can imagine, the drops did not stop there. No-ho-ho-ho! Not in the least!
He came back the next day, with more. MUCH more. And the way this will work is similar to the above, because I was able to cap these drops myself. Renegade's ID here is HcffYvjg. He's answering Anon's questions, which will be quoted as part of his responses (and some minor commentary from yours truly in between). You'll see. It flow.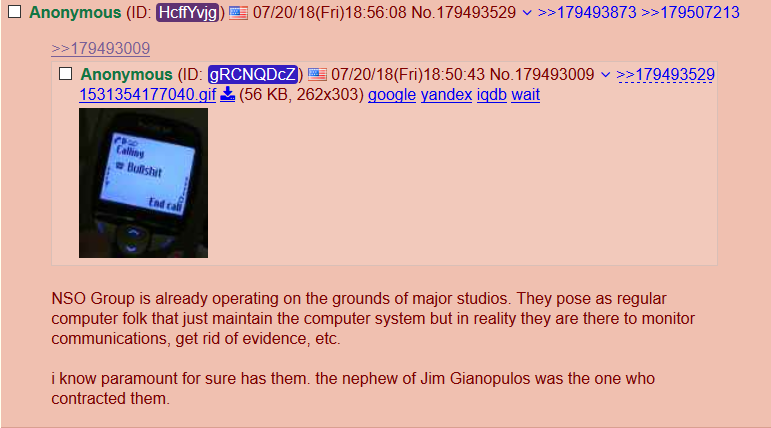 The NSO. Wow. Those guys are wicked!
Reminds me of how Harvey Weinstein hired former Mossad operatives, Black Cube, to stalk and harass actresses, journalists, etc:
Note, also, the ties between Hollywood and Israeli Intelligence agencies. That will become a trend in these drops.
PnP, for the record, usually refers to drug-fueled sex.
Note how he says "the whole metoo movement exploded in their faces haha."
This jives very clearly with everything I've read about #TimesUp, which was invented by CAA to subvert MeToo, which has somewhat more organic roots. It was a campaign to shake up the halls of power in Hollywood, and advance players who would have otherwise been kept out, but they lost control of it.
As for Stallone, #CDAN has some bad drops on him, but nothing along those lines. Oof.
It's okay, Renegage; we all make typos.
It's long been a pet-theory of /pol/ that rap music was a psyop pushed by Jewish-owned/controlled record labels in Hollywood. Renegade seems to be confirming the theory here, as well as outlining the next few steps in their plan.
As for the term JQ, for those unfamiliar, it refers to the "Jewish Question," which might be stated as: "How does 1.7% of the population control so much of the media (and/or academia)?"
Now, I want to be clear – this is contentious territory, and easily twisted around by critics as "anti-semetic racism," in order to shut down any kind of resulting conversation. That's not free speech.
I also want to remind people that there's a difference between reporting on a subject, and endorsing what you're reporting on.
And while this chart is a bit out-of-date, it's still very representative of the answer those asking the Jewish Question would have people see. According to Renegade, you could add a few more blue boxes to the chart:
And while, as a Christian, I disagree with the Jewish religion, I harbor no hate for someone by virtue of their birth.  No, in my mind, this kind of chart is more indicative of an Israeli psyop on the United States, which has been allowed to exist and operate freely for many, many years.
And remember what QAnon himself said about Israel:

So we have something of a common thread here: Mossad, Black Cube, NSO…
What other Israeli agencies are involved in all this?
Hollywood is a depraved meat-market that needs to be gutted.
I think Renegade is giving too much info away about himself, but that's his choice. But to build a profile: we have a totally redpilled black man who was A+ level in the 80's, who was friends with Red Foxx, and who will be wearing green socks at the Grammys in February of 2019.
I have an idea of who this might be, but I'll be keeping an eye out.
I've said it before, but I'll say it again: the chans are like distributed intelligence agencies with more manpower and reach than any "professional" intelligence agency. The chans can spread information with so much speed, with so much force, it boggles the mind. James Gunn can go from working one day, to completely blacklisted, because the chans have the power of the people.
That's literally all it is: it allows THE PEOPLE to connect, share information, and organize on a global scale.
Hollywood should be terrified.
HOLY COW the intel about Mel's dad LOL.
I actually disagree with the top anon post here. Renegade and others should ONLY be going to 8ch, and not 4chan, since 4chan is compromised, and 8ch is most likely under control of the US Gov't at this point.
Add "tennis player" to Renegade's profile.
As for "Gia," I'm not sure who he's specifically referring to. I have some ideas, but without further extrapolation, I can't say for sure. (I'm pretty confident, however, that it's NOT Angelina Jolie).
And yeah, guys, please stop thinking Corey Feldman is a good guy. Read the CDAN blinds on him. He is anything but!
Those were all the drops he left on the 20th, but he would come back on the 21st, this time with a tripcode identity of his own: Renegade!
And BOY did he come back in a big way! Not only is he letting you in on the inside stats driving the subversive plan of these Hollywood moguls (15% before emerging), he's naming names:
Sumner Redstone
Mortimer "Tim" Buckley
Yoram Globus, and-
Menahem Golan
He specifically accuses the latter two of trafficking arms to the Palestine Liberation Organization to state False Flag attacks! Wooooow.
With full respect for the amount of knowledge Renegade has, I have to respectfully disagree. If Geffen doesn't go down, nothing changes.. If you read the CDAN blinds, you know what a monster Geffen is. You know of his involvement with "The Church," and how the NXIVM raid was a real shot across the bow for him.
He's going to go down. It's not a matter of if, but when – because he cannot be allowed to operate in the future.
Also, regarding AGC Blind Items… they're just sort of reposting Blinds from around the web and linking back to the source. CDAN isn't the only person who drops blinds, though CDAN's drops are archived there. I wish Renegade would get more specific with which sites in particular are controlled opposition.
Wow.
I'm sorry, I know that's not much in the way of commentary, but really, you have to understand the implications of all this.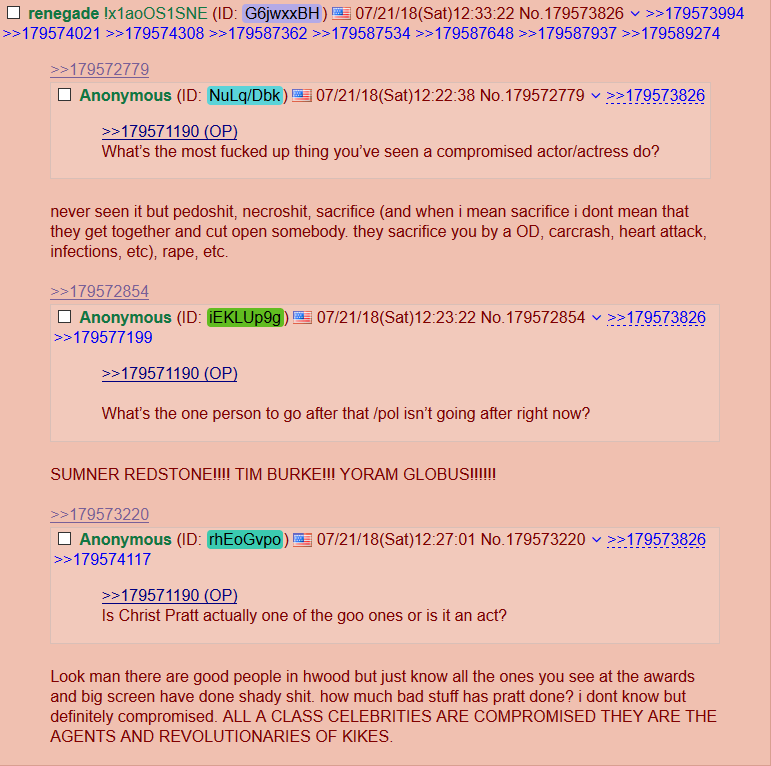 If you take down Sumner Redstone, you take down Dan Schneider.
And this Haim Saban drop coming up is HUGE!
Can't forget the OTO, or Ordo Templi Orientis.
Aleister Crowley was probably its most famous member, and today, Hollywood elites swell its ranks:
Note: Peaches Geldof died of an "overdose" in 2014.
And I mention Jay-Z here specifically, because, well… look at his shirt:
Talk about wearing your membership on your sleeve.
This is huge.
I'm not sure how  much digging has occurred along these lines, but if I find anything, I'll update the article here.
Willis is compromised, according to CDAN.
But if I can expand on what Renegade is trying to say here, it's that modern Hollywood is little more than the propaganda-wing of #TheCabal.
Studio-operated grey-rooms. That's terrifying.
I hope Renegade stays safe, but I also hope he decides to leak some of these recorded conversations.
I'd like to see a few more Hollywood heads roll before the end of the year.
Anon compiles some profiles here, but he get Tim wrong. It's Mortimer Buckley, not Tim Burke. Sumner Redstone and Yoram Globus are correct, though.
Ah, so like with NXIVM, branding is standard practice is Hollywood.
Makes it more understandable how they sold it to all those actresses, then.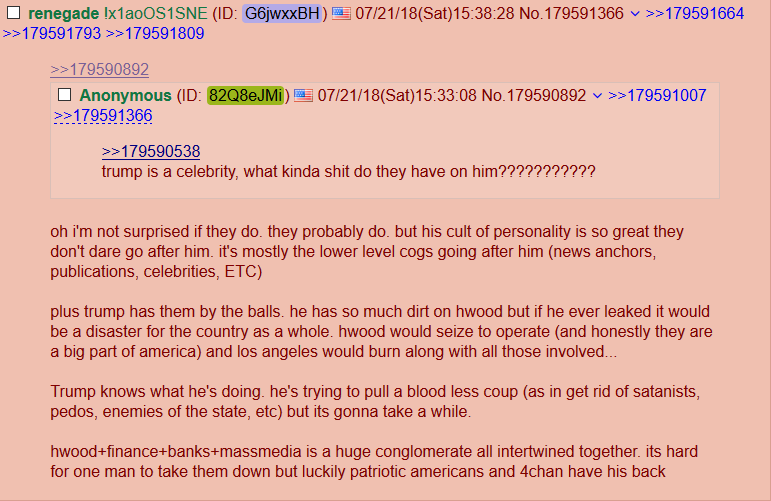 This is the first time in history this Cabal has faced organized opposition. They're terrified of the #GreatAwakening.
For the record, Jeff Robinov is a former Warners exec, and now the founder of Studio-8. You've seen his films:
Crazy to think this guy dates Abramovic… but it makes a sick kind of sense. Now, pay attention closely to what Renegade's about to say about her:
I always knew Abramovic was from Eastern Europe, and operated there for the longest time… but I had no idea she was a Soviet asset. That's insane! She worked on degenerating them there, and then was tasked with doing the same over here! SICK!
I think he's right, here. It would be deeply divisive if all this became public right now… but give it six months to a year for things to play out with Trump and Q.
The general public will be more prepared than you think.
Again, the studio operated grey room concept should terrify most of my readers here.
There is a strange tension right now between Hollywood and China. It's been getting harder for Studios to finance their pictures, so they run to Chinese investors looking for money. That's why you've seen, for instance, Chinese subliminal advertising all over the recent Transformers movies, and why you're seeing Chinese production companies listed in the credits of ostensibly "American" movies.
As for Anton Yelchin's death, see Peaches Geldof above.
Yeah, Mamma-K controls I think all of Kanye's music right now. I don't know the exact percentages. He's been looking for a way out.
I think I've mentioned it before, but if you want to know why they killed Brietbart, read his book Righteous Indignation. It's downright prophetic.
I've had a hard time reconciling Eyes Wide Shut with CDAN's recent drop on Kubrick. I have to wonder if he was part of this Cabal, and then tried to expose it once he felt he was in too deep. It's hard to say, but people can be mixes of good and bad, especially at different stages in their life.
But he didn't make a new thread the next day. He couldn't wait that long. He came back within a few hours and continued dropping bombs:
I've talked about this before, how /pol/ can "break" people. /pol/ is a "hurtbox." If you're feeling something akin to this… especially when reading all this… that's good.
(Source: https://www.neonrevolt.com/wp-content/uploads/2018/07/D5D-5YZha-6w9SFEx1vvUfaOY778fBaOHBb2WiF2ZDQ.png)
It shows you still have a soul.
Now get up; we've got a job to do. The world is counting on us.

This is ancient history. This is how you know Renegade is who he says he is. He's citing stories that happened back in the 1950's and 60's:
Wild stuff, and it lines up perfectly with the kind of intel Q has dropped – about them wanting to keep us divided, about them wanting to keep the black population totally demoralized.
I look forward to the day when the Cabal's influence over these populations is destroyed!
Benicia is by San Fran, for the record.
Think Silicon Valley.
Think Pelosi's back yard.
And that name is something to dig on; a Dr. O'Rourke, who died in 2012. Again, I will update here if I see anything along these lines.
I've read many such stories like this. It's another Open Secret in Hollywood. Utterly disgusting.
I so wish Renegade would dish out the goods on ol' Moonbeam.
And now we get to possibly the biggest drop of all:
SNCTM advertises itself as a sex club for elites, but, well… it seems to be more than just that.
Think Eyes Wide Shut, where everyone wears masks and such. In fact, the founder said he was "inspired" by that scene in the movie.
Wonder who the "King Maker" and the "Texas politican" are.
Anon then gives us some help with some abbreviations:
And that was Renegade's last post in that thread.
Notables from Anons included:
But Renegade still wasn't done that evening, and hopped into another thread to drop some more bombs:

So, just to be clear, Renegade is accusing Allen Daviau – one of Spielberg's right-hand-men – of raping the then-teenage Margaret Langrick on the set of Harry and the Hendersons.
As for Gabriel Katzka, he's dead, and there's no Harry and the Hendersons connection that I can see from here, so I think Renegade is just listing names of abusers he knows.
Now this is pretty huge, if for no other reason than it outlines a specific Cabal-related hierarchy:
Sad to hear that about Belafonte, though. I always liked his music.
Now this… this is huge, because that Hannibal-Lechter-Smoothskin-Wannabe is David Geffen.
If Renegade comes back and drops anything about him… Wow.  Just know that I will DEFINITELY be updating the articles if that materializes.
And it's funny that the last anon here that Renegade responded to mentioned The Oakwood, because that's exactly the place BlackListAnon mentioned needed more scrutiny in two drops just before Renegade's answer appeared:
Guys, make no mistake: we're working to bring down Babylon here. They wanted you to think Harvey Weinstein was the EXCEPTION, when really, he was the RULE. We can't allow this evil to continue; it needs to be COMPLETELY PURGED.
I HIGHLY encourage any and all insiders who want to speak to take the necessary steps to get on 8ch, and start dropping intel as fast as they can. I may even have to make an OPSEC guide on how to keep safe and do this, for anyone who may have the desire, but lack the technical know-how. (And if there are any anons out there who want to help me with this daunting tast, please – get in contact with me. Thanks).
---
Hey guys, thanks for reading and sharing my articles today.
By now you know about my Threadless store, where you can buy all my lovely t-shirt designs, including the excellent Where We Go One, We Go All – Tigerstripes shirt. This is a men's tri-blend t-shirt in navy blue, but we've got this design and more on shirts for women, children, long sleeve, short sleeve, hoodie,  heck – even shower curtains (if you're so inclined).
Got a Trump rally coming to your neck of the woods? I'd love to see if one my readers could get a call-out from Trump! Threadless is great; they'll get your shirt printed and out to you in a jiffy, and you'll be supporting my work, like the article above, here on the site.
You can check out some of the other designs available in the sidebar, here on the site, and the whole store can be found at https://neonrevolt.threadless.com/
Thanks so much.