Poor EvilWulf. He's been waiting so patiently for me to write this, and I've been tied up, trying to fix my site while also trying to keep up with the ongoing Qdrops.
But he's been hard at work, implementing all kinds of upgrades into his #QClock App, and now it's better than ever.
Here's the main interface now:
Key highlights:
Resizable QClock face:
This was my feature request. The last version was a liiiiiiittle too small for ideal screenshots. This is much more flexible. Just click on the small QClock in the main window, and a new one will pop up, which you can scale out to whatever size you want.
Integrated Search:
This is a biggie.
Click that search button, and it will bring up a new window, wherein you can search for whatever string you want!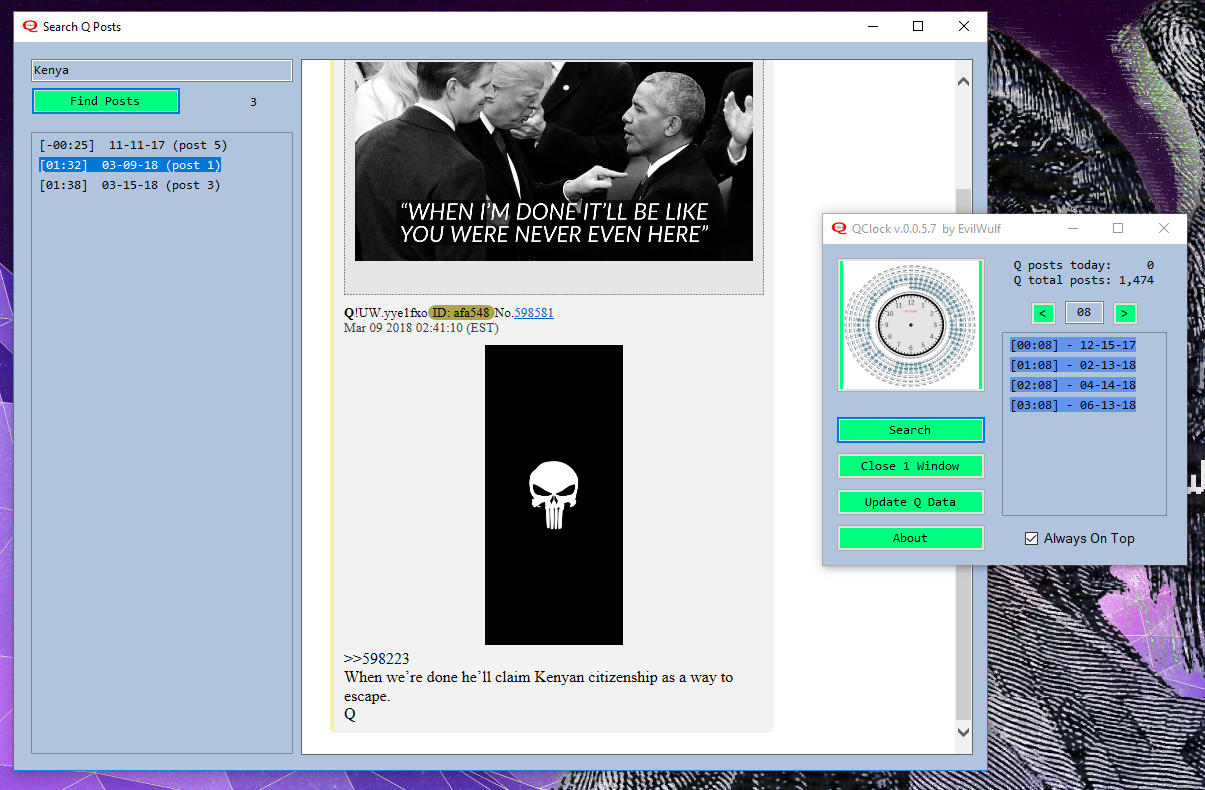 There are other bits and bobs here and there – but they're pretty self-explanatory. EvilWulf also took care of a little bit of code that was giving some folks false positives on their virus software, so that shouldn't be an issue any longer.
Installation is exactly the same as before, but if you need help with that, check out the instructions in this post:
If you want to check out EvilWulf's release notes, you can find them over at his blog:


evilwulfindustries.wordpress.com
And if you have a bit of spare dosh, EvilWulf is now accepting donations in the exact same way I do on Gab – either through subs, or through video donations. If you value his efforts, as I do, please consider funding those efforts, as that really helps autists like us to continue to produce the kind work we produce.
Alright, I'm hosting this file over on Mega.nz, because my server has already been run through the mill lately, and I don't want to kill it.
Here's the-
QCLOCK DOWNLOAD LINK: QClock
---
Hey, if you liked that post, did you know you can now support Neon Revolt with a Gab Subscription, a Crypto donation, or a One-Time Tip?
Just head to https://neonrevolt.com/donations for instructions!
And Thank You! This site can't happen without your continued support! But rest assured, together, we are changing the course of history!