#POTUS has been going after Sen. Jon Tester pretty hard lately.


Hmm… We know POTUS never attacks at random – even though he is always on the offensive. Wonder why he's directing our attention towards him:
A big thanks to the #Anons who brought this to my attention, and an even bigger thanks to the researchers over at /v/Pizzagate for piecing this together. There's no way I can piece all this together by myself, so the least I can do is shine a gigantic spotlight on it, and get it in front of more eyeballs.
The following is sourced from:
https://voat.co/v/pizzagate/2522499
Begin:
For those of us who watched Trump's speech last night, he took time to talk about his disgust with Senator Jon Tester from Montana who had made some false accusations over Trump's pick for the VA. In his speech, Trump said that he "KNEW" some things about Tester that if the people knew, they would vote him out of office.
I decided to look into Tester and found it odd that he had been involved the adoption of children in Haiti after the earthquake. Here is some info Dated Feb 04 on Tester launching an online resource center for adopting Haitian children. http://archive.is/lQG2y
In the article it mentions about how the previous month, he had been working with Secretary Clinton and DHS Napolitano on how to expedite the process of adopting children in Haiti. Here is another article discussing Tester's communication with Napolitano regarding her commitment to speed up the process. http://archive.is/0XHlA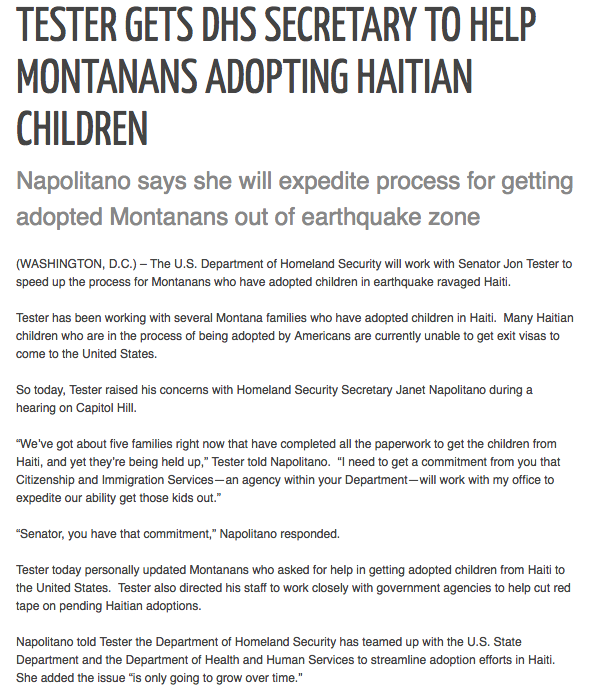 I just find it interesting that Tester was pushing Clinton and Napolitano to expedite the transfer of Children to the U.S. on January 20th and then on Jan. 29th, Laura Silsby and 9 other Americans were busted in Haiti trafficking as many as 33 Children. http://archive.is/mqeF3
Another interesting piece of info is that Jon Tester is a freemason, atleast according to his bio, in which he attends Treasure Lodge #95 in Big Sandy, MT. http://archive.li/GPH1Y
Tester also had taken heat from the GOP for failing to protect children from sexual predators by opposing a 2001 bill to require library computers to block access to pornography. http://archive.is/V2LOC
What exactly does this guy have in his closet? Was Trump trying to lead us somewhere? Think more eyes need to be on Tester to see if any connections to the New Life Children's Refuge and the Americans arrested in Haiti or anything else that could uncover what it is that Trump "Knew" that is so damaging about this hopefully short lived Senator.
Selected comments:
Re: His Nephew's strange death: