I feel like a moron.
But I'm glad someone figured this out.
Take Q's last two posts. I've put them side-by-side for a reason, but your browser may resize things, depending on your monitor: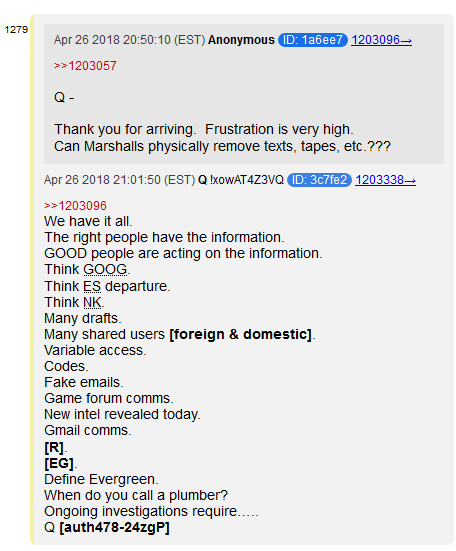 Take the second one and read it first..
Then flip the first upside-down, in reverse order.
Append them together.
You get something that looks like…THIS!
Ain't that somethin'?
I made this image just for you guys.
I'm going to have to go back through previous comms and see if "think mirror" applies.
How's that for #WeaponizedAutism?
UPDATE:
Went back and tried it with the other "Mirror" posts.
Feb 5th had some likely candidates; posts 667 and 668.
This was before Q had introduced extra instructions with the mirror; so I'm just doing a 1 to 1 appending here, top-to-bottom.
Combined, you get this:
Why did the #Memo drop a Friday [& before the SB]? Imagine THIS.
Did this seem strange to you? Raw intel collection.
Watch the news. Narrative FEEDER.
Rothschild estate sale [Black Forest]. Narrative COLLECTORS.
Stock market DIVE [666 – coincidence?]. Narrative DISTRIBUTORS.
Soros transfer of wealth. LEAKS.
Dopey FREED. CLASSIFIED.
Marriage for POWER, not LOVE. PAYMENTS.
Hilton/Roth. FOREIGN ACCOUNTS.
Soros/Clinton. CASH.
Etc. SPOOK FILES.
News unlocks MAP. HOTELS.
Think Mirror. BLACKMAIL.
Which team? How do you retain 'Freedom of the Press' if those in front of the camera [trusted by select viewers] are extensions of the ARM?
THEY don't know. Freedom of the Press is VITAL to retain.
APACHE. TRUST THE PLAN.
These people are EVIL. THERE ARE A LOT MORE GOOD THAN BAD.
Still don't believe you are SHEEP to them? You, THE PEOPLE, need to remember how TO PLAY.
20/20 coming. You, THE PEOPLE, have the POWER.
PUBLIC is VITAL. We STRIKE every SINGLE DAY.
RELEASE of INFO VITAL. We WIN every SINGLE DAY.
OUTRAGE. EVERY SINGLE DAY THEY ARE BEING DESTROYED – LITERALLY.
JUSTICE. STAY STRONG.
Can we simply arrest the opposition w/o first exposing the TRUTH? HAVE FAITH.
FOLLOW THE LIGHT. THIS IS BIGGER THAN ANYONE CAN IMAGINE.
Q
I'll add here, that Q has not confirmed this method yet, so everything here is speculation.
Until it's confirmed in some way, well, don't take it as gospel.
#QAnon #GreatAwakening #ThinkMirror