#QAnon came back with some late-night doozies:
I'm going to give a more verbose translation of this, for those who need it:
The Strozk/Page texts are the precursor to arresting HRC and Obama (and many, many more) on treason charges.
This is Constitutional Crisis/Emergency Powers/Martial Law territory.
Some Senators and Representatives are already calling for immediate arrests; none are leaking.
Chair+ means Nunes or higher.
The perpetrators here attempted to communicate via Gmail drafts; that is, keeping the e-mail on the Gmail servers, only. If they sent the e-mail across the internet, between servers, they know they'd be sniffed out. But by saving drafts within gmail, and having people login to the same account, they attempted to obfuscate their comms.
Things are progressing on the legal front to make sure Obama and HRC don't worm their way out of this, but we're going to have to get very loud, and be very patient.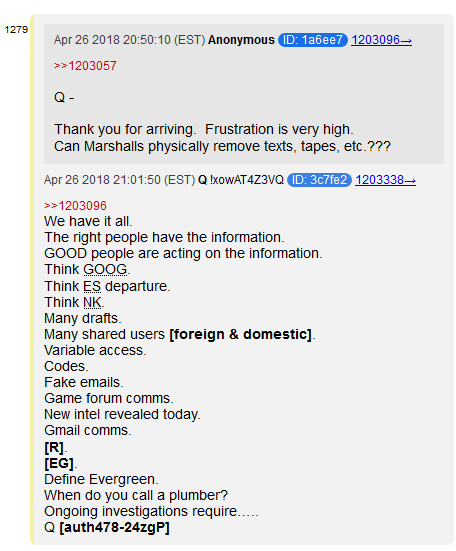 NSA and QTeam have all the evidence they need.
Many, many, many members of #TheCabal had access to this shared Gmail account, where they wrote back and forth across many drafts.
These users were international; making this a matter of state security.
They further attempted to obfuscate by speaking in code to each other (think "pizza" code), and sent of bogus emails to throw sniffers off the track.
Remember when John McCain was caught playing poker on his phone during a Syria debate?
The new intel is the Gmail comms.
Q gives us two specific targets in the killbox: R and EG.
EG is "Evergreen."
Evergreen is Hillary's Secret Service Codename:
When do you call a plumber?
When you have a leak.
Ongoing investigations require no leaks. Can't tip off your enemy.
As for Q [auth478-24zgP]… #Anon will help us with that:
Source: https://wikileaks.org/akp-emails/get/311608
Now, I think the most important part of this is the Google Groups note:  [email protected].
I did a little digging along those lines, but of course, when I get close:
I'm sure we'll get more on that later, but in case you're wondering how Hillary's emails were obtained, well… it looks like she fell for the oldest phishing attack in the book:
Source: https://wikileaks.org/clinton-emails/emailid/32341
This evergreen ain't too bright, and thank God!
But before I go, re-read this old Qdrop from January 19th, in the context of what you know now:
Look at all those creepy little collusionists.
Get those hashtags firin', Legionaries!
#ReleaseTheTexts #Renegade #Evergreen