GET HYPE cause #QAnon is BACCCCK!
SO MUCH GOING ON HERE.
Okay, start with Ms. Mack.
You'll recall she was the #2 with the #NXIVM sex cult.
I wrote a BUNCH about all that here:
NXIVM, Raniere, and Hillary Clinton – The #DeepState is in #PanicMode! #QAnon #GreatAwakening
#NXIVM's Sex Cult Leader/Actress Allison Mack Follows #MarinaAbramovic
The Keith Raniere/#NXIVM Arrest is SO MUCH BIGGER than you Realize. #QAnon #GreatAwakening
The TL;DR on this is that the NXIVM sex cult is one arm of #TheCabal used to rope in celebs, religious and media figures – and bring them into the world of #SpiritCooking and the like.
Ms. Mack looooved Spirit Cooking Cabal Priestess Marina, too, dontchya know?
What's HUUUGE about this Q post is that he ties it back to The Standard Hotel and the California helicopter crash, which I wrote about here:
"Looks like Meat's Back on the Menu, Boys!" #Hogghunting now tied to #TheStandardHotel #GunControl #2ndAmendment
New Details Emerge about Marina Abramovic, #SpiritCooking, #TheStandardHotel, #Wikileaks, and #QAnon. #FollowTheWhiteRabbit
And if you held a gun to my head and forced me to write a TL;DR about this, well…
The Standard Hotel is a prime site for Cabal activity, routinely hosting Marina Abramovic, celebrities, elites, and catering to all kinds of perversion – so much so that they've murdered to cover it up (at least once with the help of Adam Schiff), and its speculated that they keep acid vats on the roof to dispose of bodies/evidence.
(But really – read these articles if you haven't already. It will help you wrap your mind around what's really going on).
So with all this in mind: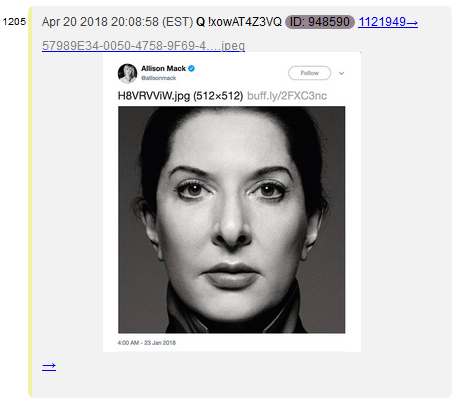 Ohhhh wow!
That's what Q meant with this earlier post:
Now to jump back to Trump for a moment, you'll remember Q said "Trump card coming" before signing off earlier.
#Anons speculated as to what this meant, exactly.  I tend to agree with this Anon:
Good quick rundown on the #Awans:
Then came the #Trump tweet:
TRUMP CARD! BOOM!
But wait, who is Wendy?
The boards have been trying to figure that out for the past few hours…
And that's when Q came back with this:

WTF?
Notice Barry's middle finger?
Remind you of anything?
And then an Anon gets the answer as to the identity of the girl in the picture:
!!!!!
There's only one answer for this evil…

#QAnon #GreatAwakening #TheCabal #Pizzagate #Pedogate #NoCoincidences